Meditation stresses me out.
Seriously.
I want to be good at meditation, but I'm pretty sure that that's not a thing. It's probably the exact opposite of the thing.
I have seen some improvement though.
When I started doing yoga, savanasa AKA corpse pose, at the end of the practice nearly made my skin crawl. It sounds good, just lie on the floor in total relaxation, calming the senses, and thinking of nothing.
Yeah, right. Easier said than done. But over time I did come to appreciate it and eventually look forward to it. But that's not enough. In Buddhist philosophy, the ultimate benefit of meditation is the liberation of the mind from attachment to things it cannot control.  And I want to be liberated.
With that in mind, I sign up for a two-hour Guided Sound Bath Meditation at a local yoga studio.
You know, go big or go home.  The leap from a couple of minutes of Savasana to two full hours seems reasonable, right?
The studio is packed; there's an array of gongs, bowls, and other instruments at the front of the room. Following brief introductions, Elise Carter of Be Free Yoga leads us in an hour-long restorative yoga class with Kenny Kolter accompanying and suplementing her voice. After that, we'll have an hour-long meditation with the sound bath; the star of the show.
The first hour passes quickly, and we prepare for the meditation. Trying to get comfortable, I can't imagine how I'll be still and clear my thoughts for the next hour. I lie back and close my eyes.
The sound bath begins, softly and slowly.
They are mimicking the nuance of a heartbeat.  The tones rise and fall with my breath.  I am immersed and surrounded. Suspended. The sound vibrates at the frequency of life. There's a storm and thunder cracks overhead like an exclamation point. The experience is equal parts authenticity and fever dream.
Guided by the sound, I feel like I'm traveling through the Chihuahuan Desert listening to the rattles of a snake, then noticing the footsteps of a giant stomping through a lush forest. Neither of these things is frightening; they just are.
And then I think of meatballs. WTF?
I'm jarred out of my revery, but instead of getting derailed, I choose to observe the thought like a cloud, acknowledging it, then watching it float past. I confess I heard this tip either in a previous yoga session or on a promo for Long Island Medium,  lest you think I'm more enlightened than I am.
Before I know it, the gong softens and slows.
The meditation is over. It seems impossible that an hour has passed. Sure that they've finished early, I'm shocked when I get to the car I see that the session has run over by about ten minutes.
Driving home, I feel rejuvenated, calm, and peaceful. Dare I say blissed out?
Damn, I think I just crushed meditation.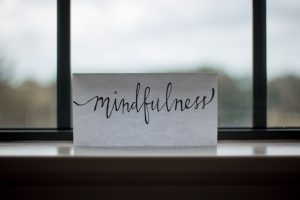 As always, thanks for reading. If you ever have the opportunity to try a Sound Bath Meditation, I highly recommend it.  For more information about Kenny Kolter and his incredible work, click here.
In the East Texas area? Click here to learn more about Be Free Yoga.
I usually do my meditation on the trails, read my article about reconnecting with your mind, body, and spirit here.  If you find nature inspiring, or just want to get outside, be sure and join the 52 Weeks 52 Hikes Facebook group.