Scuba diving in North Alabama? You bet! No need to go to the tropics. If you've always wondered what it's like to breathe underwater, you don't need to go any further than Glencoe, Alabama. Long-time residents of the area may know it as the Blue Hole, but it's now Dive Land Park a safe, clear-water park offering excellent quarry diving just a short drive from metro areas in Alabama, Georgia, and Tennessee.
I visited the park on a hot summer day to participate in the IDEA Discover Scuba Experience.
Discover Scuba is a quick and easy introduction to what it takes to explore the underwater world. I arrive at Dive Land Park and am met by the owner, John Valdes, who will lead me through my experience. After some brief introductions, he fits me for a buoyancy compensator (BC), some booties, fins, mask, and snorkel. The water is balmy 85 degrees, and we won't be going too deep, making so that a wetsuit unnecessary.
Gathering up my gear, I head to the quarry to meet John. On the dock, he will determine how much weight to put in my weight belt. Entering the water, I exhale and go under as he makes the necessary adjustments. The goal is to achieve zero gravity, where you can just hang in the water experiencing a state of weightlessness.
Next, we, go over some basics, including common scuba hand signals, so we're able to communicate underwater. Suddenly there's a huge splash about 50 feet away. I look quizzically at John who replies with a smile and a shrug. "No worries," he says, "probably just a catfish." Hmmm….ok, and off we go.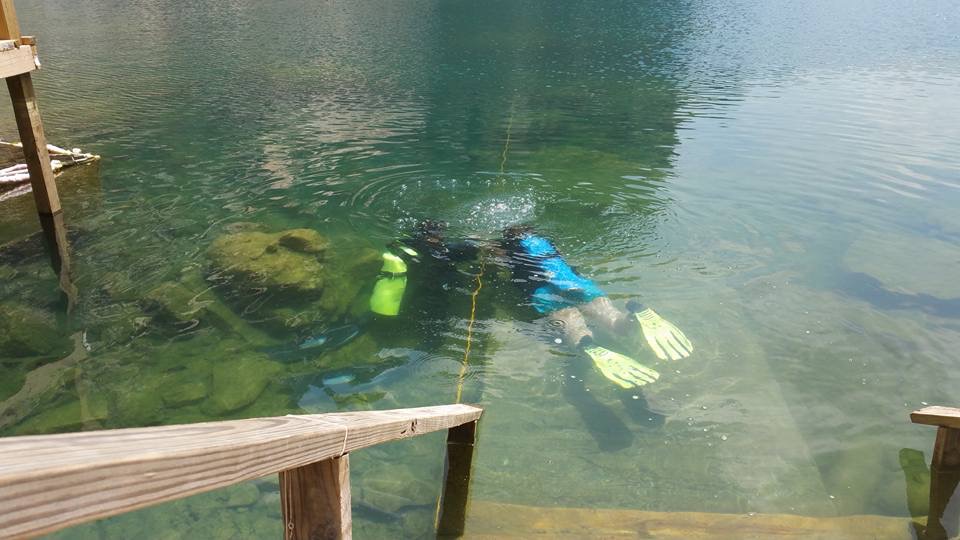 We follow a yellow rope, well John follows a yellow rope and I follow him.
The water is warm, blue, and clear. Visibility typically ranges between 20 and 70 feet at the park. The rocky bottom begins to fall away slowly, and I have to remind myself to slow my breathing and relax. Once I do, I fall head over heels in love with the weightless, peaceful feeling of breathing underwater.
Making our way past fish beds, we come upon a submerged boat surrounded by fish. Eventually, we find ourselves on an underwater platform where I pose for some pictures.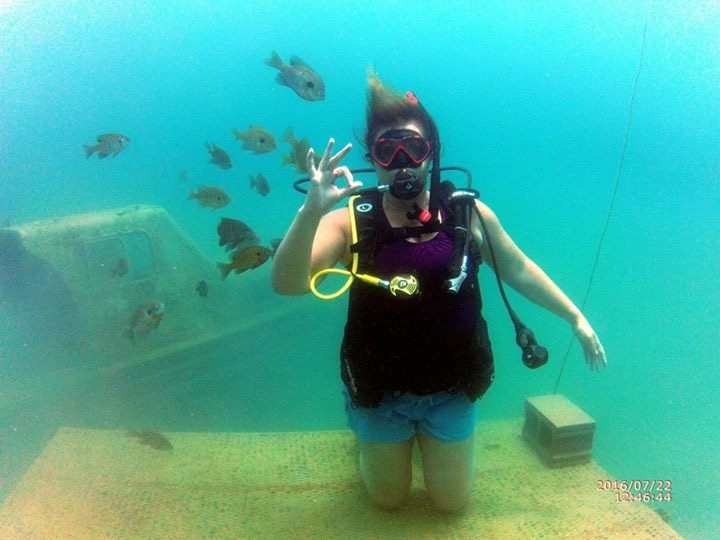 Suddenly something hits me in the back!
Hard! I squeal as much as is possible with a regulator in your mouth before realizing it was one of the fish. He gets me a couple more times; let's just say I used to have a skin tag on my right shoulder and now I don't.
We glide through the water a little longer, then head back to the dock. I'm shocked to learn that we have been out for over 20 minutes. Time stands still underwater; it felt like we'd been out five minutes at the most.
I enjoyed my IDEA Scuba Discover Experience at Dive Land Park immensely. Interested in trying SCUBA? Give Dive Land Park a call. They also offer the IDEA Open Water SCUBA Certification course which is recognized worldwide.
Contact Dive Land Park at 256-492-4455 or email divelandpark@yahoo.com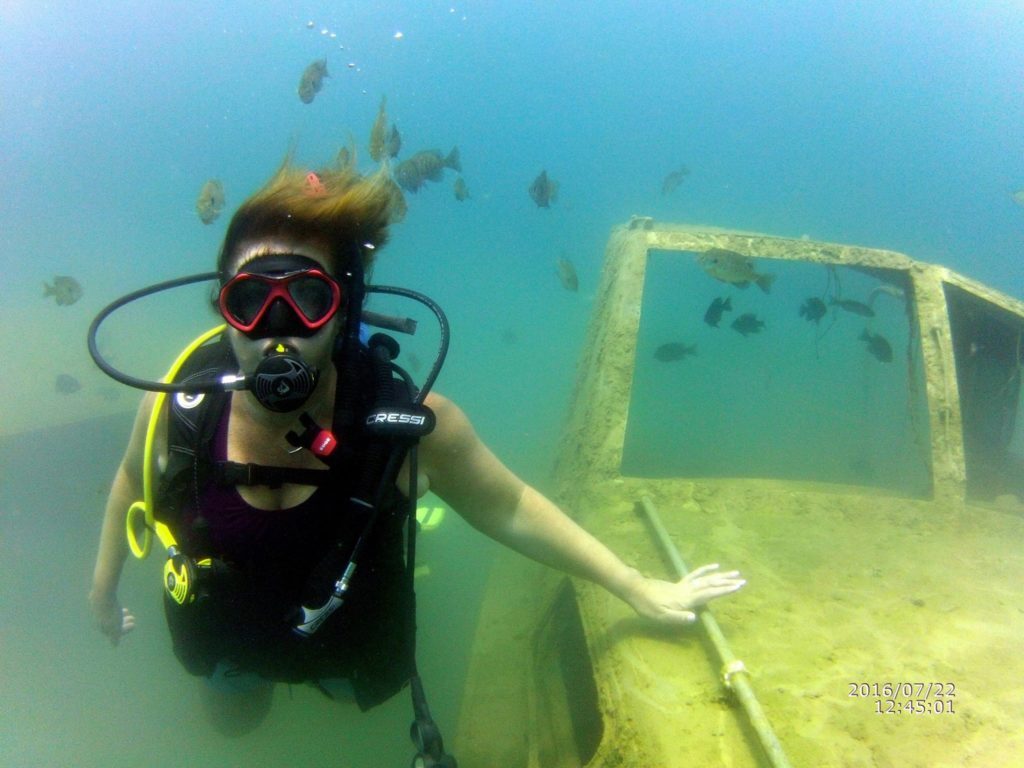 About Dive Land Park:
Dive Land Park is open to all certified divers and snorkelers the first weekend in April thru the last weekend in October and is located in north central Alabama between Anniston and Gadsden Alabama on Hwy 431.
Dive Land Park is a safe clear water environment offering excellent quarry diving for newly certified divers as well as the more advanced. With visibility ranging from 20 to 70 feet, and depths up to 150 feet, there is something for everybody. 
Night dives are scheduled the third Saturday of the month beginning in May and continuing through October. Live music and entertainment will be featured for those who do not dive as well as divers who just want to chill out after their dives.  Primitive camping is available for those who wish to stay the night.
Entry Fees:
SCUBA entry $25 a day
Snorkeling entry $10 a day
Bubble Watchers $ 5 a day