I'm a sucker for a roadside attraction!
World's Largest Ball of Twine? Count me in! Spam Museum? You bet! Creepy clown motel? Er, maybe not.
Roadside attractions began popping up across the country as long distance road-travel became more practical and popular in the 1920s.
Americans soon began a decades-long love affair with the road trip resulting in creative entrepreneurs offering travelers a chance to rest, be entertained, and part with a few dollars along the way.
Meant to be pit stops, not destinations, the upcoming attractions were promoted via billboards along the side of the highway — anticipation built as the miles crept by.
Most of the attractions were man-made.
Often the novelty architecture was the main attraction, depicting giant-sized objects – such as the world's largest skillet, baseball bat, or bottle of catsup – you name it, someone built it. There are even animals – Lucy the elephant, a blue whale in Oklahoma, and the ever-popular dinosaur.
Not all of them are man-made; natural wonders abound. Who could resist a meteor crater, a blue hole in the middle of the New Mexico desert, or America's largest underground lake – the Lost Sea in Tennesee?
The construction of the U.S. interstate system in the 1950s bypassed many of these attractions, most famously along Route 66; many of them went out of business. But some remained, still appealing enough to lure travelers off the interstate.
There are still hundreds, if not thousands, of these quirky, eclectic, and random amusements scattered throughout the country, and several are right here in Alabama.
Ascend to the top of the 56 foot Vulcan in Birmingham, tour fantastically detailed miniature world by one single-minded monk, or visit Bamahenge, the world's first full-size fiberglass Stonehenge, in Elberta, Alabama. You'll even find some dinosaurs scattered randomly throughout the woods while you're there.
You can't go wrong pulling off the interstate or highway to check out a roadside attraction. When they're good, they're great. When they're bad, they're even better, often becoming the source of endless running jokes and family lore!
Take a chance, get off the beaten path.
After all, memories aren't made at the mall. But a visit to the World's Largest Ball of Paint? That's the stuff of legends.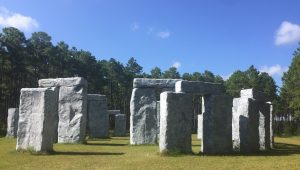 As always, thanks for reading. If you like the story, please give it a share.
Be sure to follow along on social media and subscribe to the newsletter.
XOXO