Or That Time I Went to Nashville To Do Goat Yoga
The Reluctant Traveler (RT for short, my husband for the long haul) was headed to Nashville on business. I've done the downtown bar scene and wasn't interested in another round, but there was Goat Yoga class I'd been wanting to check out. I packed a bag and headed to Music City.
On the way up I ask RT about goat poop. We had a goat, Andre, a few years back. Funny story, a neighbor had received Andre for Easter (evidently her husband thought a duck or bunny would be too cliche) and one day she arrived home to find Andre on top of her bed pooping and eating her comforter. Andre ended up at our house. I was not a part of the transaction, long story short, goats poop a lot. As in walking and pooping simultaneously a lot. RT assures me that if it happens it won't amount to much more than getting hit with some Craisins.  Hmmmm……
When we arrive in Nashville I get a message from the Goat Yoga people that class has been cancelled. Oh well, I was feeling a little trepidatious anyhow.  The website suggests wearing a t-shirt; the goat's hooves can  be sharp.
Determined to find other ways to fill my time I hit the sack, getting ready to explore in the morning.
Day One
I love all things outdoors. Especially hiking and kayaking. Do both inside the Nashville city limits. First up, urban kayaking with Cumberland Kayak Urban Adventure Company. There are several options to choose from and I select the shorter Skyline Paddle option. Meet the crew at Cumberland Park downtown and board the shuttle to Shelby Park. Spend the next hour or so enjoying the scenery until an unhindered view of the Nashville skyline appears. Paddle through the downtown area until you arrive back at Cumberland Park. A lovely way to spend some time seeing the city from a different perspective.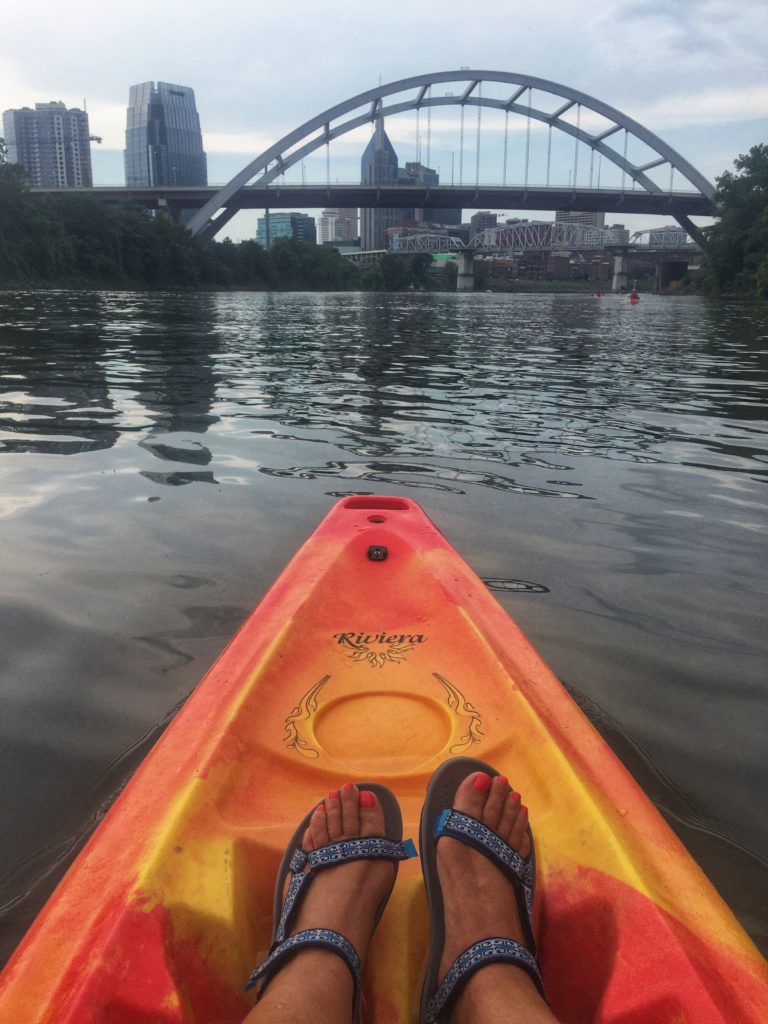 Although there are some hikes and walks to be taken within the city limits, I decide to venture out to the Harpeth River State Park  about a twenty minute drive from downtown. Here you can hike a short, albeit steep, trail  to a narrow bluff; totally worth the effort for the awesome panoramic view.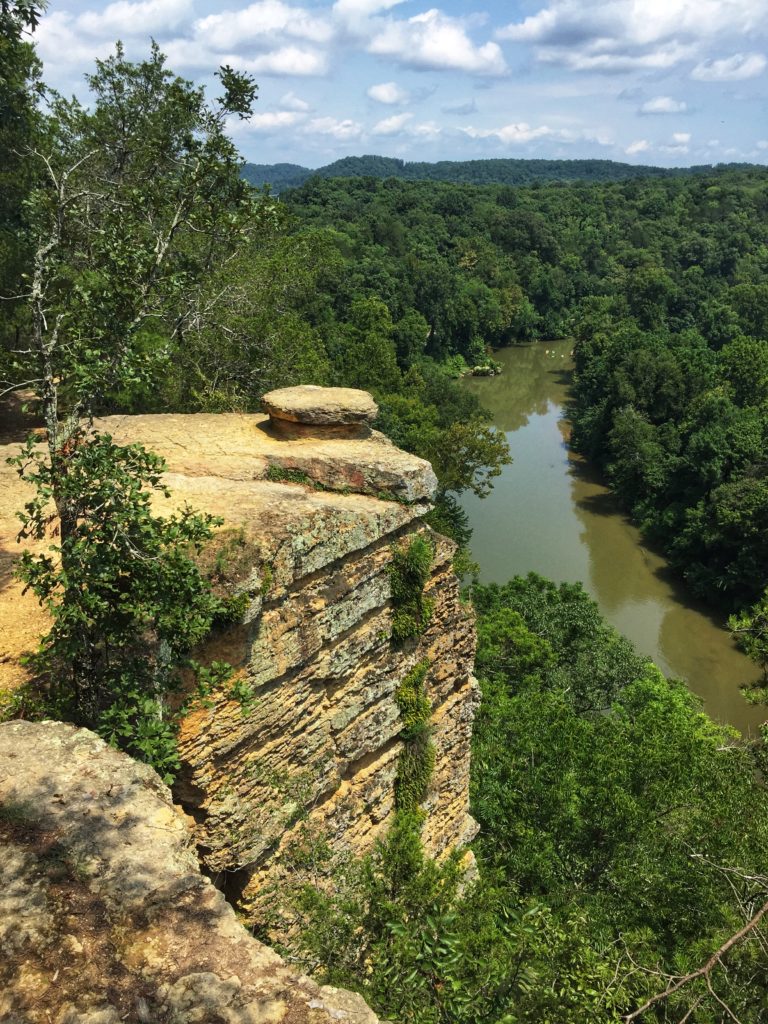 Another short trail leads to the backside of the bluff where you'll get a view of a small waterfall. What's unusual here is that this waterfall comes through one of the oldest man-made tunnels in America. Considered one of the greatest engineering feats of all-time, it's all that remains of Montgomery Bell's iron forge operation.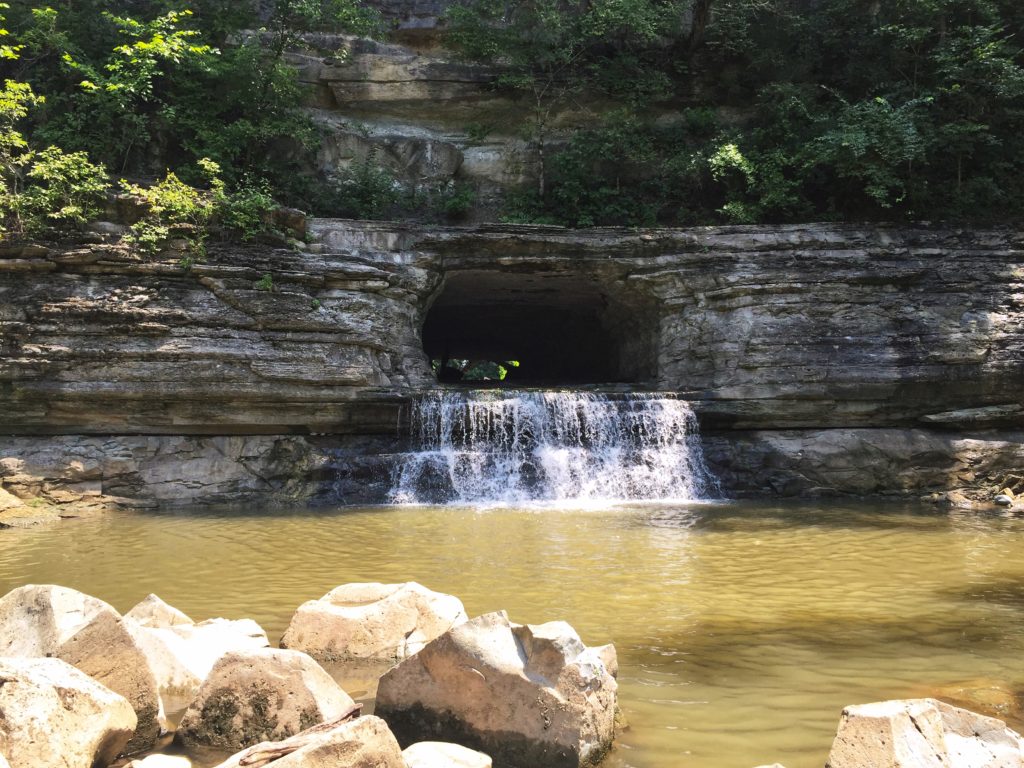 Later That Evening
Everyone knows that there is great music in Nashville. There's also great art. An abundance of public art is scattered throughout the city, some well known, some not so much. RT was in a meeting that evening so I headed off on foot to Puckett's Grocery & Restaurant for dinner. Check out some of the awesome murals I encountered in the span of about five city blocks.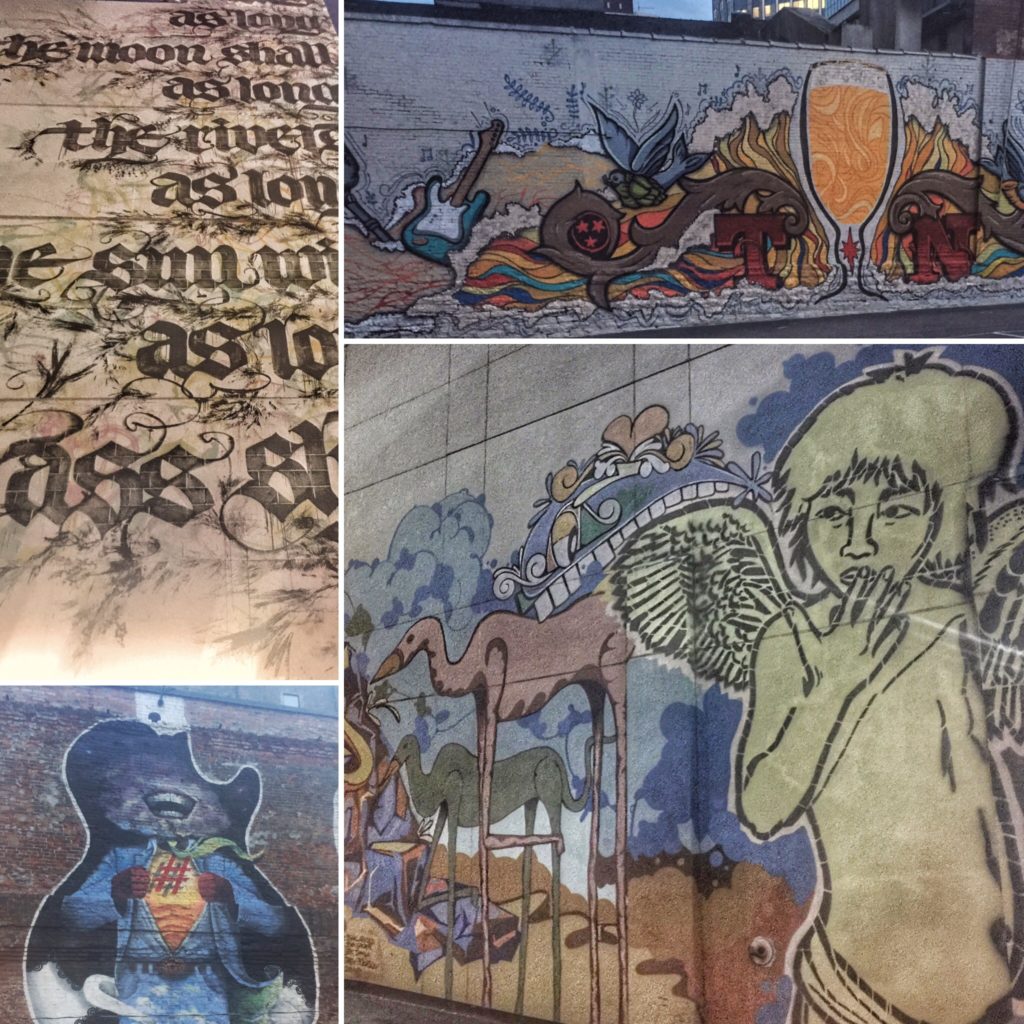 BTW, the food was good, and the music was, of course, great.
Day Two
Breakfast, now off to the Farmer's Market. Open every day, the large farm sheds host stand after stand of farmers and merchants. Signs of fall were all around with flowers, pumpkins, and produce.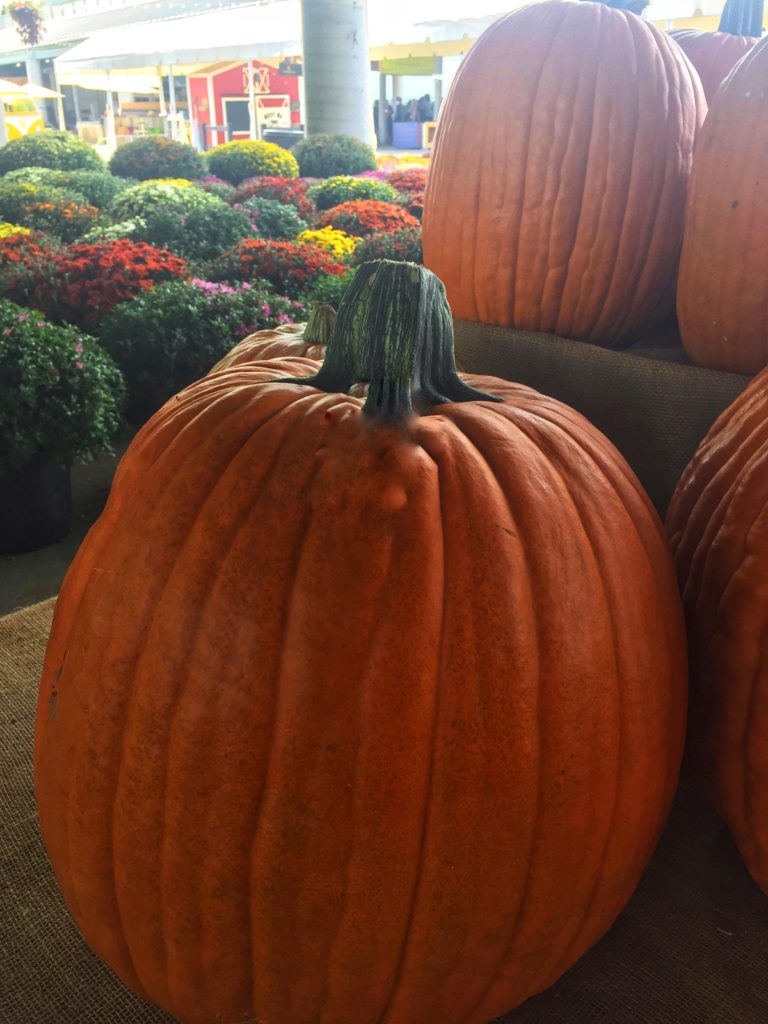 I immediately regret eating first; the Market House features fourteen eateries with delicious food from wood-fired pizza to Jamaican jerk chicken to gourmet ice cream. Seriously, take my advice. You'll definitely want to eat here. And of course, there's great live music.
It's a gorgeous day so I head off to Centennial Park.  Home to Shakespeare in the Park, great walking trails, playgrounds, and the Parthenon (yep, that's right, there's a full-scale replica of the Parthenon plunked down at one end of the park), 132 acres less than 2 miles from downtown.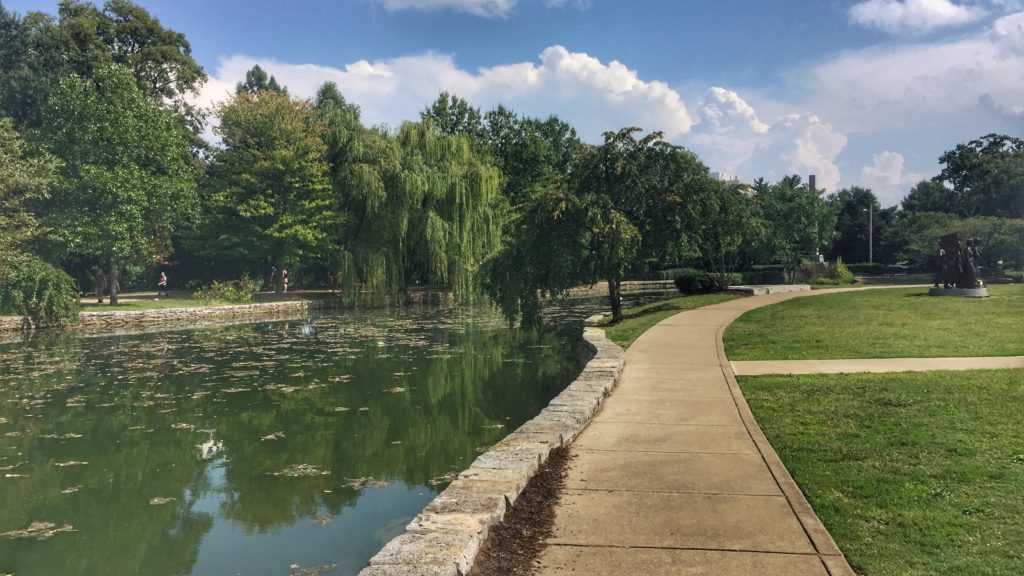 Inside you'll learn the fascinating history of this building and can also view great art in the galleries downstairs. Be sure to hit the second floor to check out Athena, all forty plus feet of her. Incredible recreation of the Greek goddess. Who knew you could explore ancient Greece in Nashville?
Dinner and A Burlesque Show
RT has made dinner reservations at The Southern. During the delicious meal I announce that I think we should check out a burlesque show later that evening. RT looks puzzled. "You want to go to a nudie bar?" he asks, looking less and less reluctant. I had walked by Skull's Rainbow Room the night before and my curiosity was piqued. Even though the show doesn't begin until 10PM it's not too tough to convince him to go.
On the way we stop at Alley Taps for a cocktail. This is a great place, billed as Nashville's Original Gin Mill, located in Printer's Alley. Low key, live music, great drinks. Perfect.
Time to head to the show. People are packed in, we grab a spot next to the baby grand. Right on schedule the band starts to play and out comes Madame Hazel. Burlesque is not a nudie bar, but it is a provocative show with the women stripping to a g-string and pasties. There's singing, dancing, and comedy, along with a fairly raucous crowd. It was definitely a new experience for me, no Christina or Cher like the movie though.  Pics aren't allowed; if you're curious you'll need to check it out for yourself.
Adios Nashville
While Nashville is known for it's music there's so much more. Great art, dining, and shopping. Excellent outdoor adventure. I hope to get back soon and check out more of the Nashville offerings. Especially goat yoga. Until then, naaaaamaste.