It's early……
Too early to be out on a cold, windy, dreary New Year's Day. On any other New Year's Day, I'd be drinking coffee in my PJ's watching the Rose Parade; likely eating a cinnamon roll, eschewing any and all thoughts of  healthy eating resolutions.
Instead I'm headed to DeSoto State Park for their annual First Day Hike and for my first training hike. I'm alone and feeling a little nervous, although I can't really put my finger on the reason why. Originally there was a small group going, but one by one they cancelled. Too cold….too early….yada, yada, yada. My fellow Grand Canyon wannabe is in a boot, not the cute kind, the orthopedic kind, so she won't be joining in the fun today either.
Did I forget to mention that Carver is in a boot?
She is. CrossFit. Need I say more? When I told my husband, Jimmy, about the Grand Canyon plan originally, he was surprised that Carver was planning on making the trek. Looking quizzically he asks, "Carver, that I've been in physical therapy with?" He recently had knee surgery. "Yup", I reply. He informs me that she had to be assisted getting off the bed at therapy and was using a cane when she left. He then goes back to watching TV.
There's a good chance he doesn't think this wild idea will ever come to fruition. I need to tell you right away that I'm super reliable. I have a work ethic like a mule. I will not let you down. But when it comes to myself, that's another story. For reasons I can't explain, I have quit on myself a million times. I throw a great idea, something I'm totally stoked about, on the back burner, to do something I care nothing about but feel obligated to do. Something I really should do. You know the drill. You may have even experienced this too. I silently vow that this time will be different. I've declared it publicly (full disclosure, I've done that before), but this time I'm not going it alone. I'll have someone to answer to and vice versa. We'll do it together.
The Hike – DeSoto State Park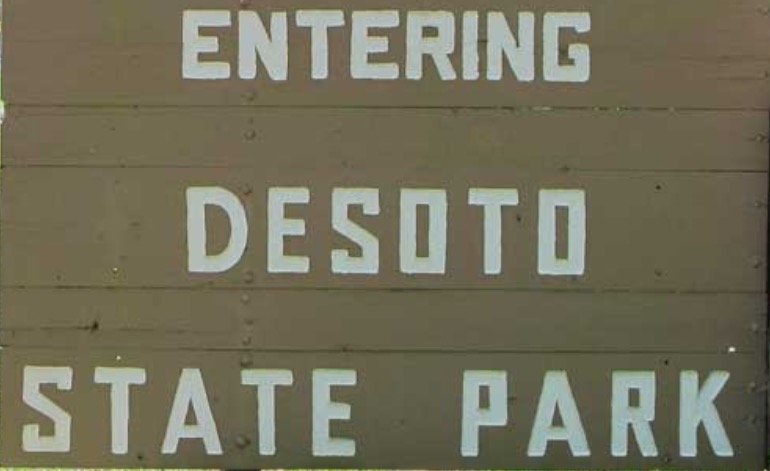 Pulling up to the designated meeting spot, I see a group of people milling about the parking lot. I grab my backpack, a six-plus year old Nike bookbag that one of the kids used in high school, dug out of the back of a closet and filled with enough peanut butter sandwiches, Clif bars, and water bottles to last a couple of days. Hoisting it up, I make my way to the group.
Our fearless leader arrives. She welcomes everyone, gives a brief orientation, then says, "Let's hike". Off we go. Heading into the woods we quickly fall into a single file line, passing beautiful rock formations and the remains of a CCC quarry.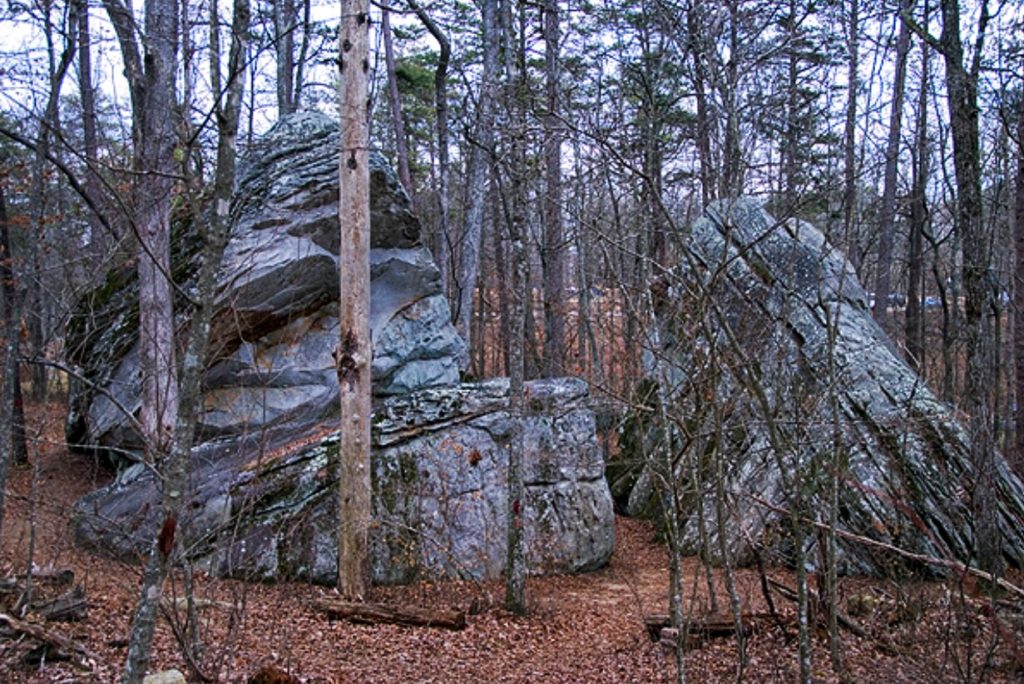 Soon we're at our first stop. The campground, complete with restroom facilities. There's only one toilet and the line is long. My backpack is heavy so I take it off and drop it on the ground. I eat a sandwich and a Clif bar, more out of an effort to reduce the weight of the pack than out of hunger.
The wind is howling. It was comfortable as we were hiking but now I'm feeling the damp cold. It's taking a really long time for all of these people to use the restroom; I'm ready to get out of this wind, into the trees, and to get warm. Warmer anyway.
Thankfully it's time to start again. Some of the people are quitting and heading back to the parking lot. Not me. I'm in it for the long haul. We're making our way to a couple of waterfalls next and I don't want to miss that.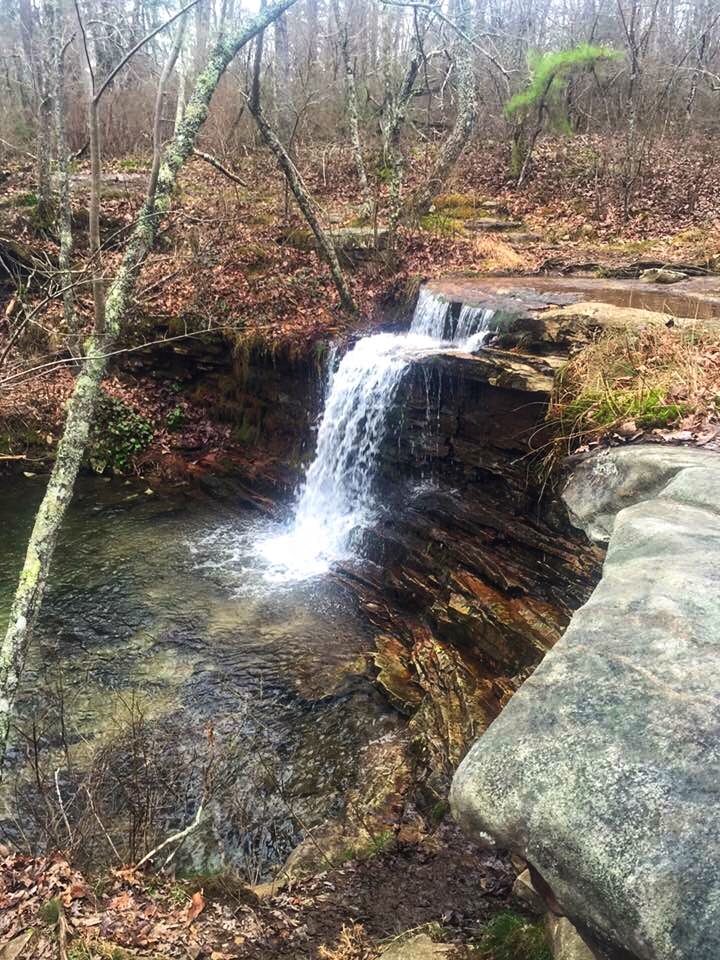 Now that the herd has thinned out, the pace has picked up. I'm next to a blonde with a hiking stick. She introduces herself. Wendy. I tell her I'm a newbie hiker, although my equipment and attire have probably given that away.  Wendy has extensive hiking experience and we really hit it off. We agree to exchange phone numbers before we leave so we can do some future hiking together.
The waterfalls are nice. We've hiked on several switchbacks and up some hills to get there. I wonder if this is what Grand Canyon will be like. Spoiler alert. It's not. Not even freakin' close. We arrive at the boardwalk trail and take another break. This is about the five mile point. A few are going on to see Indian Falls, Wendy and I decide to call it a day and head back to the parking lot.
Heading Home
At our cars we exchange contact info. Wendy confides that she has lots of spa friends, but not many interested in hiking, kayaking, outdoorsy stuff. I can relate to that. We say our goodbyes and jump in our respective cars. Cranking up the heater I head home feeling accomplished and excited about my new, able-bodied hiking friend.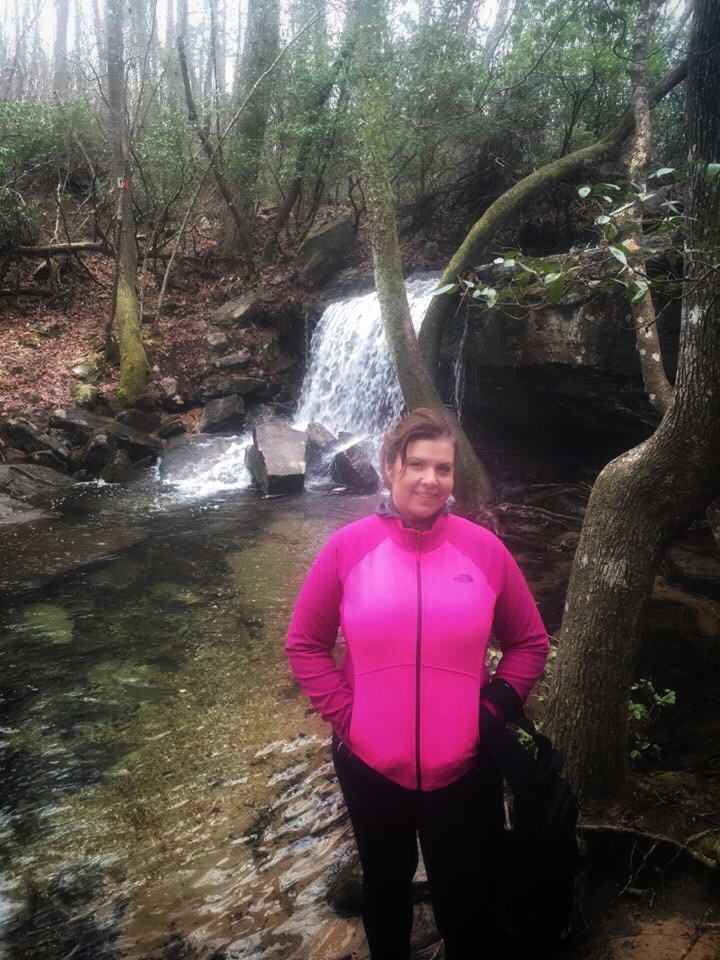 I survived my first training hike at DeSoto State Park. With the remaining food and water in my pack I could probably survive the Zombie Apocalypse. Next time I'll have a better idea what to bring and what to wear. I'm tired and wonder if I'll be sore tomorrow. I wonder where my next hike will be. I wonder if I'll make it out of the Grand Canyon. I feel more confident than I did this morning. I'm off to a good start.
Happy New Year!
Want to check out hike number two? Click here!
If you'd like to read how this journey began click here.
SaveSave