Bouldering, a form of rock climbing, is performed on small rock formations or artificial rock walls, without the use of ropes or harnesses has been growing in popularity at a steady rate.  The sport began as a training method for roped climbs and mountaineering at a safe distance from the ground, but with the advent of indoor climbing gyms, it has become increasingly popular amongst non-climbers.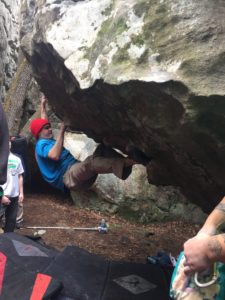 I had the opportunity to visit a competition organized by the Southeastern Climbers Coalition a while back in Gadsden, Alabama at a boulder field referred to as Hospital Boulders. I arrive and Cody Roney, executive director of SCC greets me with a smile. Walking through the venue, she gives me some background info on both the organization and the sport.
Here's how it works.
Climbs are referred to as problems and noted on the boulders throughout the field. Ranging in difficulty from V0 (least challenging) all the way up to V17 (sheer insanity) this allows climbers to plan their routes. While it can be done without any equipment, most climbers use climbing shoes to help secure footholds, chalk to help with grip, and mats to prevent injuries from falls. Problems are typically less than 20 feet tall.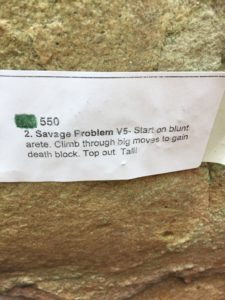 Competitors climb all day and attempt as many problems as they like, as many times as they like. To earn points, the climb must be witnessed by two other climbers or one judge. Add up the ten highest point values at the end of the day and turn them in.
Let's talk about the climbs.
I saw some astonishing feats of athleticism, and may or may not have met Spider-Man. Seriously, this is crazy cool. The strength, flexibility, and creative problem solving on display is mind-boggling. I'm nervous at times watching; the mats don't seem like enough in the event of a fall.  Cody explains that they have spotters; other climbers are not just there to witness the climb,  they stand with arms raised overhead ready to push a climber towards the crash pad if necessary.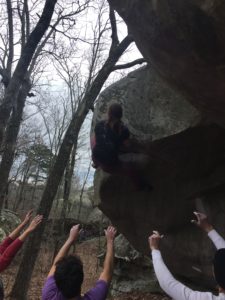 Hanging out at this competition made for a great day. The climbing community is welcoming, and their passion for the sport is unmistakable. Check out a competition near you. Or better yet, bring your sense of adventure and try it for yourself.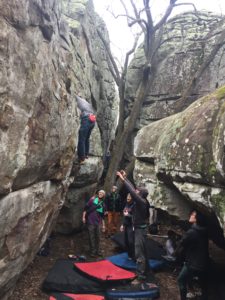 For information on the Sickness Comp at Hospital Boulder click here.