Oh my!
You'll see all of these animals and more at Tigers for Tomorrow at Untamed Mountain, a 140-acre preserve in the foothills of the Appalachian Mountains. Tigers for Tomorrow is a non-profit exotic animal park and rescue preserve that is home to over 160 animals, many of which are predators such as big cats, bears, and wolves.
Our tour guide, Mary, gave us a history of the preserve, explaining that most of the animals had either "lost their jobs" or lost their owners. The preserve is a "last stop" for these animals, as they don't take any animals that they can't care for for the rest of their lives.
We met a grizzly bear, Yonah, who had lost his job. He was a photo cub, and after he was about six months old, he was too big for that kind of work. It's obvious that he's used to the cameras!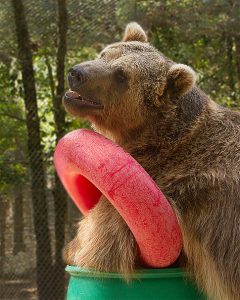 As the name would suggest, there are a lot of tigers.
What fantastic creatures!
During our visit, Mary explained the differences between the tigers, gave information about the care of all of the animals and answered any questions. She also had an essential tip regarding tiger viewing. If the tiger backs up to the fence and raises its tail, you need to head right or head left. The tiger's spray can reach close to 20 feet!
I can attest to the truth of this statement as we witnessed it. Fortunately, everyone followed instructions and avoided an unpleasant incident.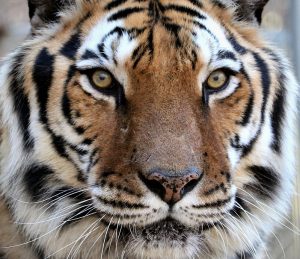 Once you leave the central part of the preserve that houses the larger animals, you'll find an animal contact barnyard full of farm animals as well as a Living Legacy Classroom which houses many small mammals, reptiles, and birds.
Plan a trip to Tigers for Tomorrow today.
Guided tours are offered throughout the year and last about 1 1/2 hours. Photos are allowed on tours. Click here for info.
A small gift shop is located by the exit. Remember, this is a non-profit organization, so all fees and sales help the animals. You can even adopt an animal or become its guardian angel to commemorate your visit.
Do yourself a favor and check it out. An excellent trip for all ages! For directions, click here.
Don't let the adventure end there! Be sure to stop by Noccalula Falls for a 90-foot waterfall. If you really want to get a good look, hike into the gorge and for a spectacular view. Read about this short hike by clicking the link below: