Curious about seeing the backside of water? Ready to make the trek to the new suspension bridge? Do both! Hundreds of thousands of people have viewed the majestic Noccalula Falls in Gadsden, Alabama from atop; why not take them in from a new perspective?
There are a couple of ways to descend into the gorge.
The easiest is via the short, albeit steep, paved trail inside Noccalula Falls Park. Walk, or take the train to the first stop by the animal habitats, and you'll see the entrance to your right.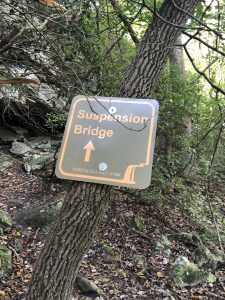 There's a sign on the left marking the trail to use to visit the suspension bridge. If you choose this option, follow the single-track path a little over a half a mile. Wear appropriate footwear; there are some roots and rocks to be navigated along the way.
Turn around here, or cross the bridge and loop around to the falls.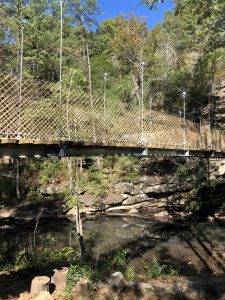 Not up for the suspension bridge?
Continue on the paved trail past the trailhead for the bridge. It will swing towards the right as you make your way towards Noccalula Falls. The pavement will give way to a dirt road eventually becoming very rocky as you near your destination.
Again, appropriate footwear is a must. The rocks can be slick depending on the water flow, but it's worth it. Explore behind the falls and underneath the enormous rock overhang before either turning back or making a full loop.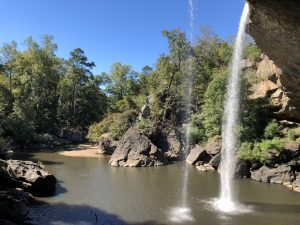 Entering from the Noccalula Campground side?
Follow the Black Creek Trail, enter next to the Chapel, to the 0.3-mile marker. Take the short trail, consisting of a couple of switchbacks until you connect with the gorge trail. A right takes you to the suspensions bridge, left to the falls.
You can also enter the gorge a little further down the Black Creek Trail behind the cabins. Whatever you decide, you won't regret your adventure off the beaten path.
Thanks for reading! If you like this article, please share it.
Want more? Thinking about getting outside and on the trail? Read 7 Reasons to Hit the Trail in 2019.
Want more hiking inspiration, encouragement, and motivation? Join the 52 Weeks 52 Hikes online community.