With all the recent rain the waterfalls of North Alabama are roaring making this perfect time to get outside and enjoy the show that Mother Nature has provided. Plenty of options for waterfall hikes in this gorgeous area. Here are a few suggestions to get you started.
De Soto State Park
Nestled atop beautiful Lookout Mountain, DeSoto State Park features over 25 miles of hiking trails, including an ADA accessible boardwalk trail. Beautiful plant life, a CCC quarry, and several waterfalls make this park memorable. Lost Falls, Laurel Falls, and Indian Falls, in addition to the namesake DeSoto Falls, make this a spectacular destination. Stop by the Country Store on your way in to pick up a trail map.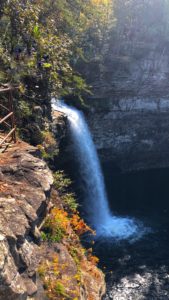 Little River Canyon National Preserve
Just a short drive from DeSoto State Park you'll find Little River Canyon National Preserve. The preserve offers several walking paths and trails and the must-see Little River Falls. The preserve is also home to the tallest waterfall in the state of Alabama – Grace's High Falls – very seasonal though.
If you're driving through the canyon, you can stop at the overlook across from the falls on Canyon Rim Drive. A hike into the canyon at the base of the falls is not for the faint of heart!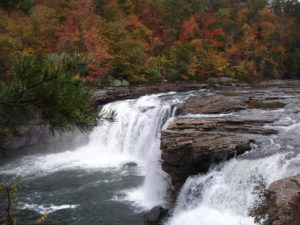 Noccalula Falls Park
Not many cities can boast that they have a 90-foot waterfall within a couple of miles of their downtown but Gadsden can! You won't have to walk far to see it, but the more adventurous can hike into the gorge to view the falls from another vantage point. Explore the adjacent Black Creek Trail system featuring over 12 miles of trekking options. Cascade Trail follows the creek for some mini-waterfalls and several picturesque picnic spots.
Want to see the waterfall from below? Click here to hike the gorge.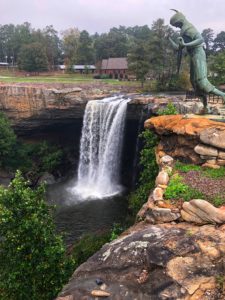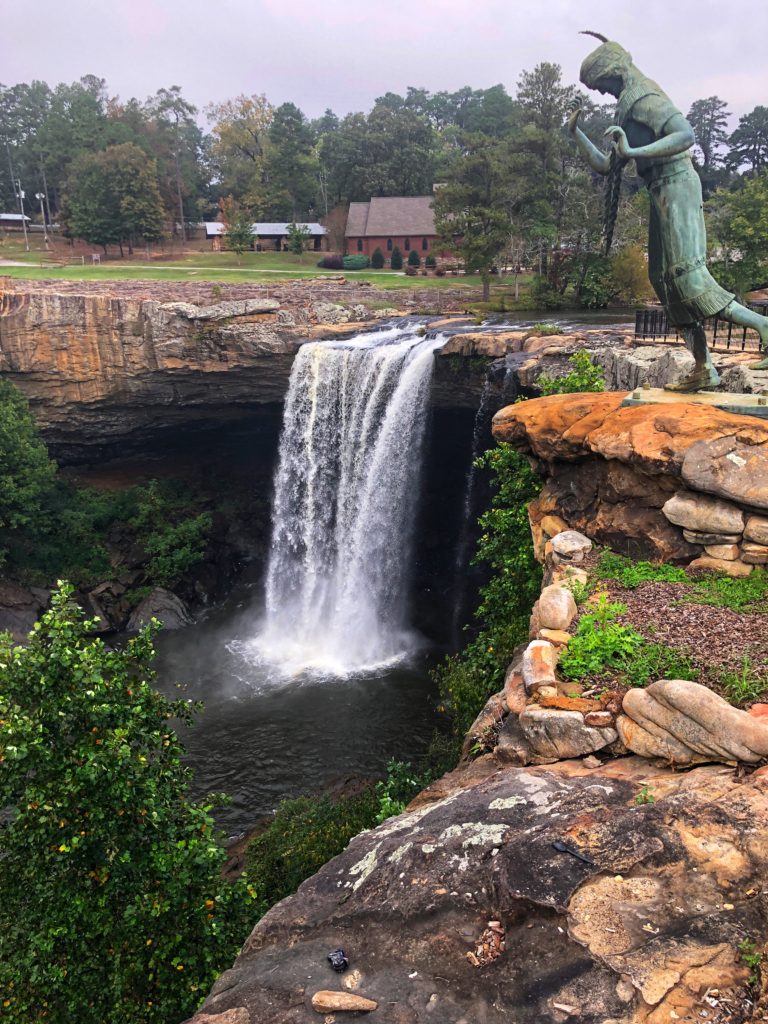 Cloudland Canyon State Park
Okay, this one is not in North Alabama, but you can throw a rock to it from there. This scenic park, just barely across the state line,  is home to two incredible waterfalls. Hemlock Falls and Cherokee Falls are both in the canyon and accessed by a moderately strenuous trail consisting of many stairs. Over 600, but worth the effort.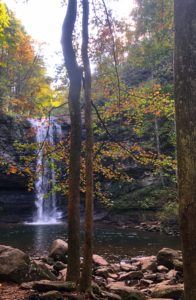 Oak Mountain State Park
Climb to Peavine Falls, a 65-foot tall, spring-fed waterfall via the White or Green Trail. It's a short albeit steep climb in if you want to view it from the front. With endless options, you can make a loop using the connector trails throughout the system or opt for an out and back trek. Oak Mountain State Park is located in Pelham.
Talladega National Forest
The Talladega National Forest is adjacent to Cheaha State Park and has miles of trails. Hike to several gorgeous waterfalls including High Falls and Devil's Den. The lesser-known Nubbin Creek Trail climbs along Little Caney Head Mountain and has lovely views. This 6 miles out and back trek will take you past several cascades that should be flowing after the spring rains.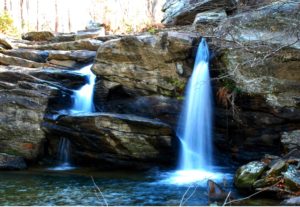 What are you waiting for? Find your trail and enjoy the beauty and diversity that North Alabama ( and a tiny corner of North Georgia) has to offer. You'll never regret the time spent in nature.
Thanks for reading! What are some of your favorite waterfalls?
Interested in the outdoors? Join the 52 Week 52 Hikes online community. It's free and it's fun! Plus you'll get tons of inspiration, motivation, and encouragement.
Keep track of your adventures with the 52 Weeks 52 Hikes Journal. Grab your copy here!