When you think of alligators and airboats you probably think of the Louisiana swamps. Alligators and adventure await the next time you hit Alabama's Gulf Coast. The Mobile-Tensaw Delta is just a short drive from your beach vacation. Have an authentic off-the-beaten-path adventure in one of Alabama's most beautiful natural resources.
Choosing the hour-long eco tour option at Airboat Express we spot our first gator within five minutes of leaving the dock. Our captain is extremely knowledgeable about the reptiles and all of the wildlife. We see at least ten more alligators in the first thirty minutes. Some over eight feet long!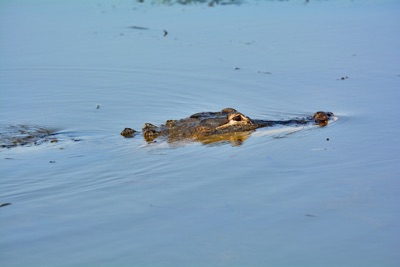 As we pull up next to some lush grass-like plants, bulrush according to Captain Geoff, he asks if anyone has heard of it before and if so, where?  Explaining that this was the plant that was used to build a boat for baby Moses in the Book of Exodus, he pulls up a stalk and cuts a piece off. Handing it to me he says, "It's edible, try it". Umm…..I don't know about that. People are starting to stare. I give it a try. Tastes like celery.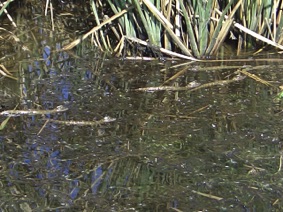 We see more gators, myriad birds, including osprey, even some baby gators (so stinkin' cute – they look like little swimming lizards). Heading back to the dock we're armed with a wealth of photographs and newfound knowledge of the area and its inhabitants.
Not ready for our airboat adventure to end we ask about the shorter Fun-Run tour option. This one's all about the thrills. Hitting speeds of up to thirty miles per hour we glide across the water making sharp turns and doing donuts. Exhilarating! You'll still spot plenty of alligators and wildlife, but this option is not education based. No slowing down this time around!
If you're in the mood for an exciting day trip next time you visit the gulf, give Airboat Express a try. Another world awaits less than an hour away from your Gulf Coast stay.