The Muscle Shoals area is widely known for it's music, but that's only the beginning. From breathtaking natural beauty, outstanding eateries, historical attractions, and world class golf, there's something for everyone in the Muscle Shoals area. Luring the Reluctant Traveler (my husband, RT for the rest of this post) with the promise of golf, we set off for a weekend adventure.
Golf In The Muscle Shoals Area
My plan was a golf sandwich. We'd start and end with a round, thereby fooling RT into thinking it was solely a golf weekend.  While there are a number of courses in the area we decided on two rounds at the Robert Trent Jones Golf Trail. Offering two 18 hole championship courses along the Tennessee River, excellent facilities including a great pro shop, full bar and grill,  as well as a friendly staff, you just can't go wrong on the trail. We played the Schoolmaster first, a spectacular, wooded course. Wooded as in lots of trees, see ya' later balls.
Our second round was played on the Fighting Joe course. I had been low-key dreading this. RTJ courses  can be challenging. Especially if your game is the caliber of mine, which could be generously described as wildly inconsistent.  I played ok the first day, but when we returned to the clubhouse I asked if Fighting Joe was as long as Schoolmaster. "Much longer" the young man replied. Swell. "Lots more water, sand too", he went on. "It's where the college guys play." Awesome.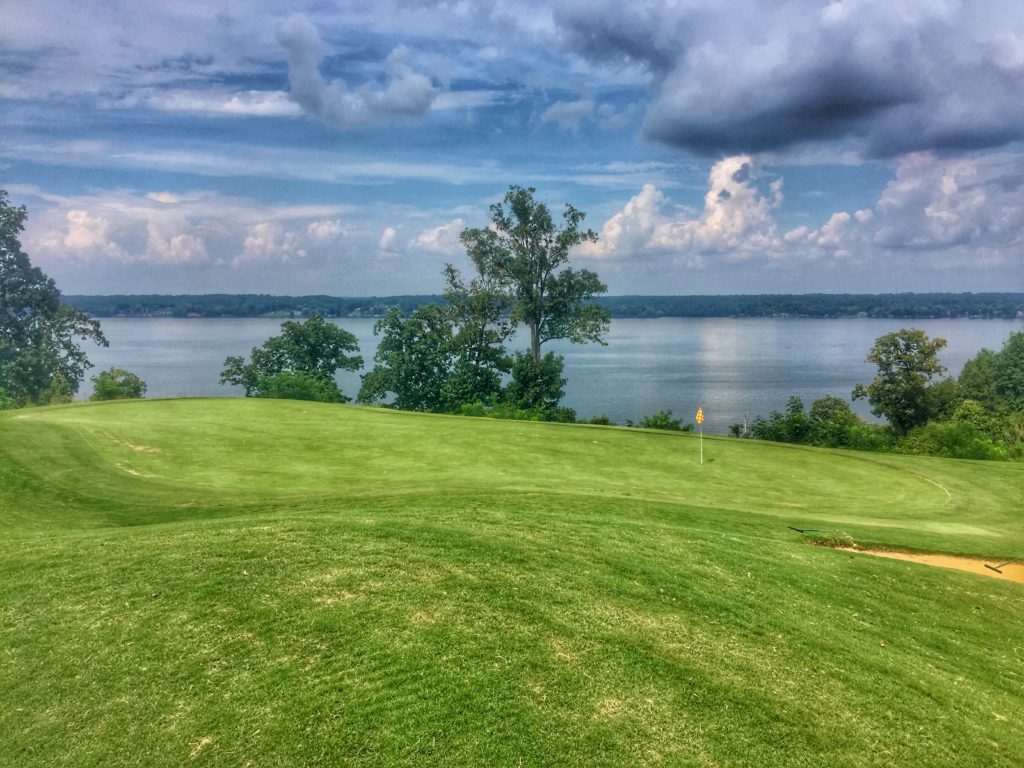 Between the two, I liked the Fighting Joe better. While it could be crazy long, it actually played a little shorter from the forward tees than the Schoolmaster.  I managed to stay away from the water, but I'm  pretty sure I found the sand on just about every hole. RT, who played a lot further back, would also choose this one if he had to pick a favorite.
Dining and Drinking In Muscle Shoals
The Shoals is home to several eateries that have been included on the 100 Places To Eat in Alabama Before You Die list. The most unusual of these is the Rattlesnake Saloon, a watering hole under a rock! Park your vehicle and walk down the path (or ride in the back of the pickup truck AKA the Rattlesnake Saloon taxi) to find your table.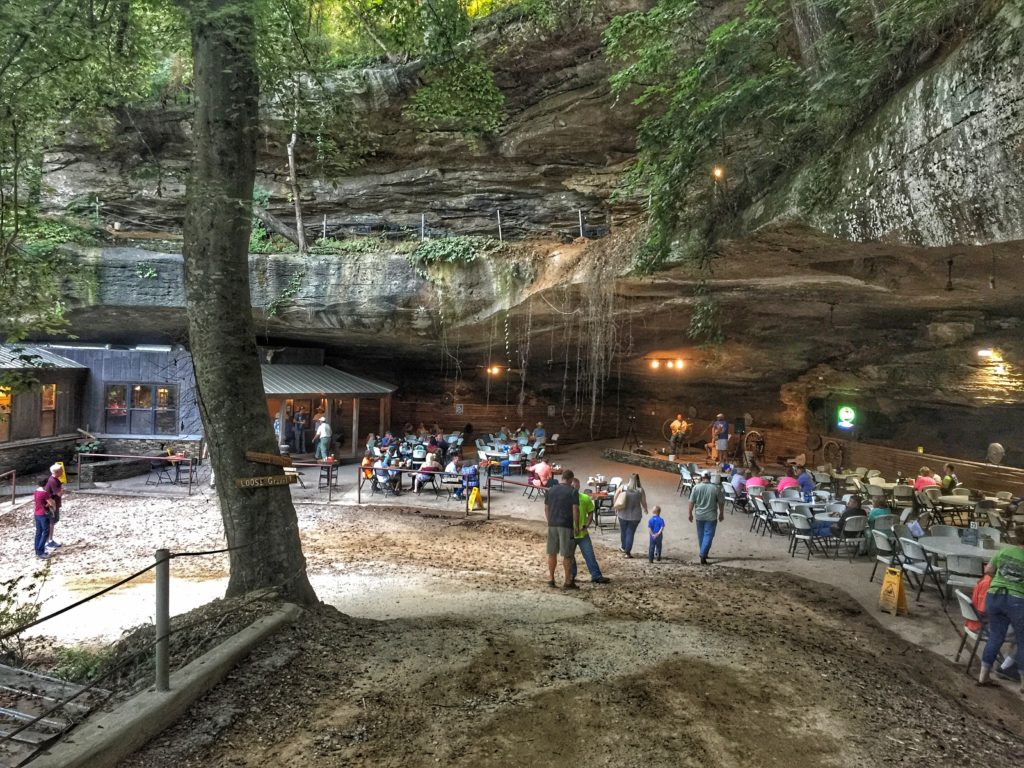 Cold beer, a fun menu, world-class people watching, and great live music made for an amusing evening. I chose  the Duke Burger. It was huge, had bacon and snake-eyes (thinly sliced deep-fried jalapeños), on an onion Kaiser roll. Delicious!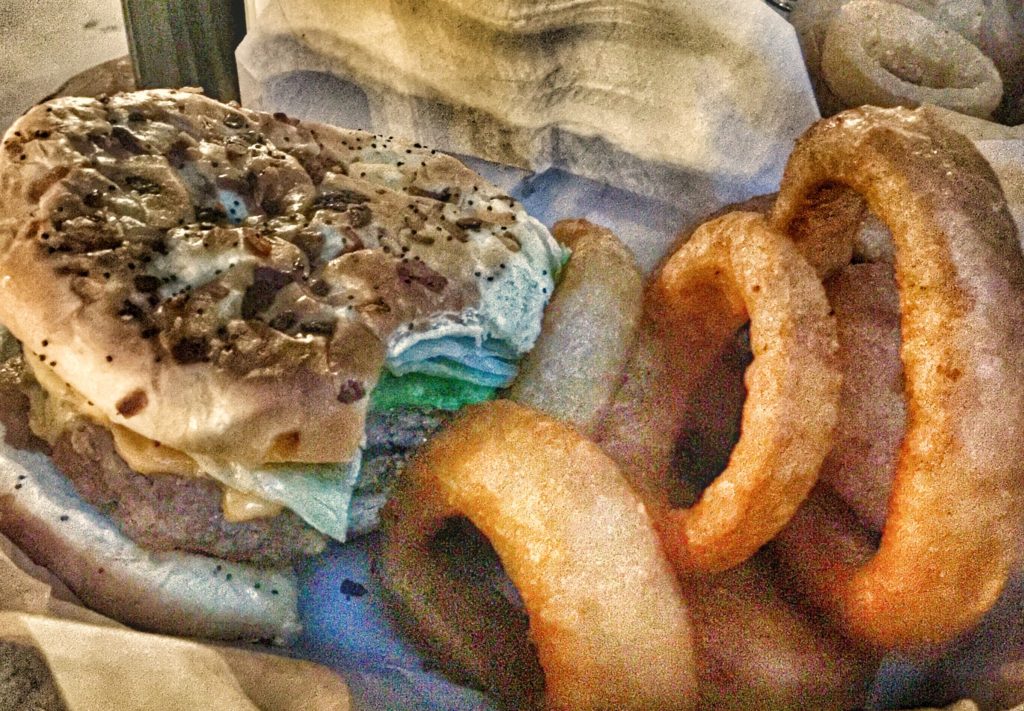 Don't miss The Palace Ice Cream & Sandwich Shop in downtown Tuscumbia for a great lunch or sweet treat. In my case, both. Charming and full of character, it's like stepping back into the 50's. The homemade chocolate cobbler with ice cream, hot fudge, caramel, nuts, and whipped cream is a definite diet buster. Totally worth it though.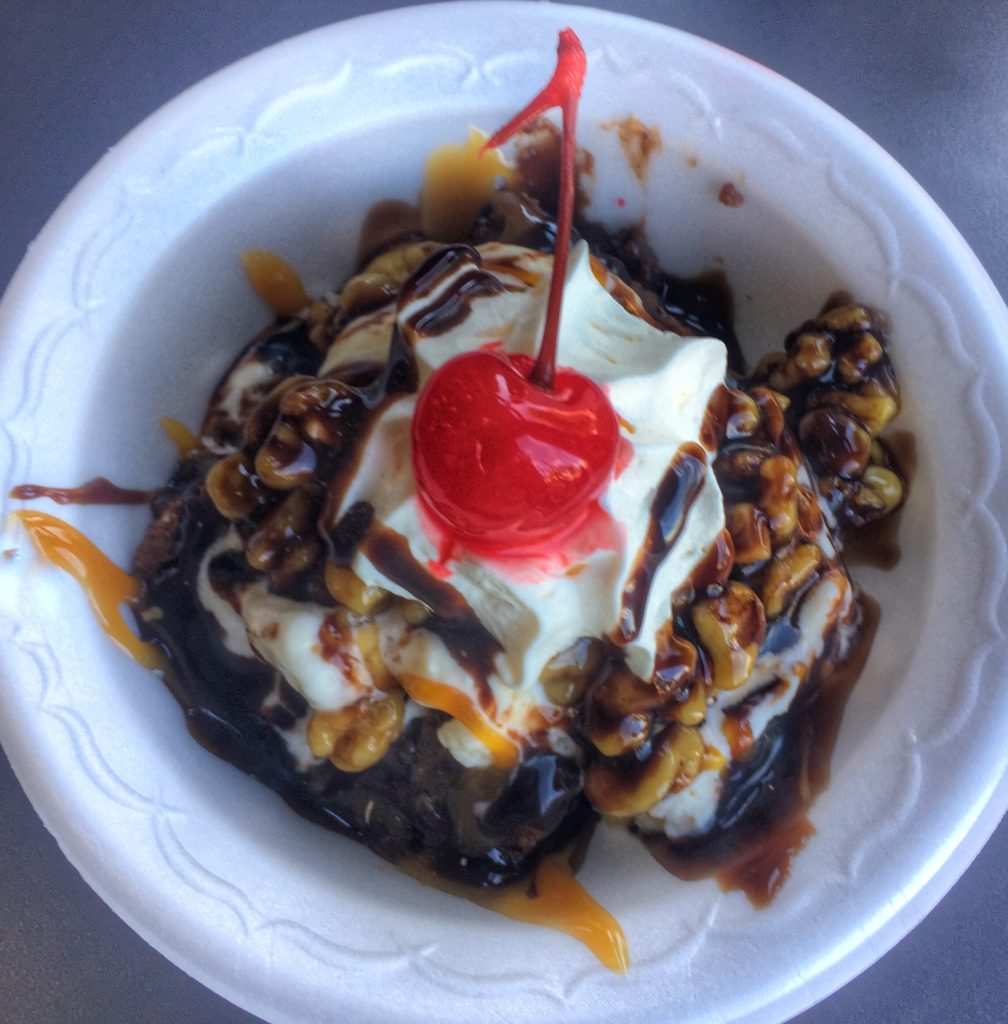 For a more upscale, yet still casual dining experience, head to George's Steak Pit.  Great steaks that are grilled over an open pit, but for me the real stars were the excellent wine list and homemade Roquefort dressing.
Sucker for a brewery? Check out Singing River Brewery. I love the  beer culture, even though I didn't always love beer. The beer guys, and gals, seem genuinely interested in finding something you'll like. With the popularity and diversity of craft beer, this usually doesn't take long. We end up with a Roggenade with lemongrass notes. So good. We even bought a couple of crowlers to take home. A crowler is basically a 40 on steroids. You learn something new every day.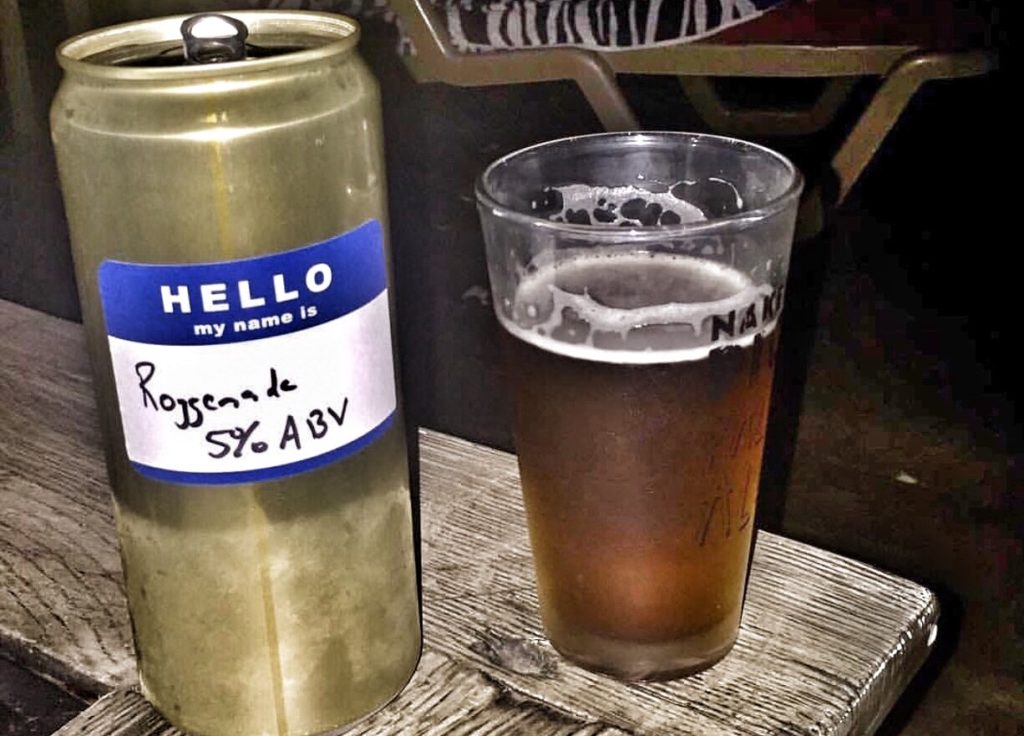 Museums and More In The Muscle Shoals Area
Informing RT that we're going to check out the Alabama Music Hall of Fame, he looks less than thrilled. His sour expression is amplified when my water, lid not adequately secured, flies off the console as we turn into the parking lot. He takes a direct hit. Suppressing a giggle I throw him a golf towel and we head inside.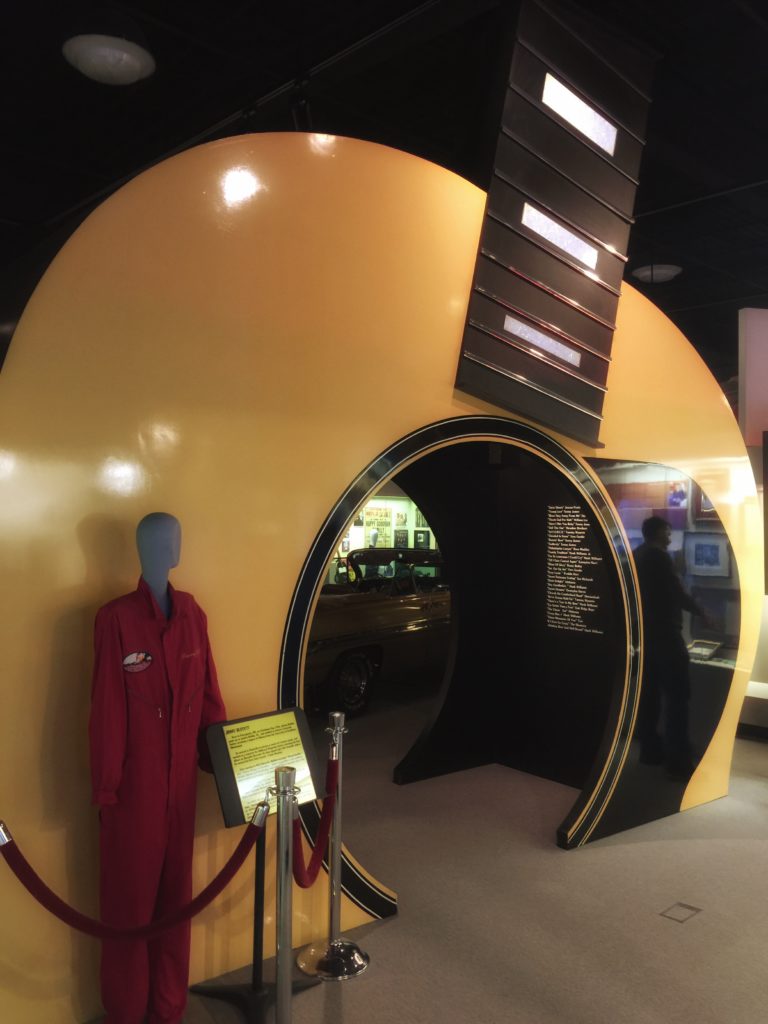 We walk through the Hall of Fame Gallery and popular music section, then head through a 16 foot guitar to the country music exhibit. So much talent from Alabama. Continue on through the R & B, gospel, and Shoals sections. You can even record a tune and pick it up in the gift shop on the way out. The only thing RT was reluctant about now was leaving.
Next, we head to the Coon Dog Cemetery established in 1937. It's definitely off the beaten path, but the drive is nice. Once there you can walk through the graves of the coon dogs that have been laid to rest. Visitors have left pennies and coins to pay their respects. While this wasn't first on my list of priorities, it was oddly moving and I'd be lying if I told you that I didn't tear up a time or two. Very unique and certainly worth a visit.
There's so much more to do than you can fit into a weekend, especially if you're using the golf sandwich method. Tuscumbia is home to Ivy Green, birthplace of Helen Keller, tour the famed recording studios, Cypress Moon Studios,  Fame Recording Studio, and the Muscle Shoals Sound Studio; the list goes on and on.
Outdoors In Muscle Shoals Area
Off to the Cane Creek Canyon Nature Preserve  for a hike. This 700 acre privately owned (but open and FREE to the public) scenic area has over 15 miles of trails featuring small canyons, waterfalls, boulder fields, and Native American rock shelters. Trail maps are available on site and the owners are usually there to welcome nature lovers and to offer advice on routes. Coolers of water, as well as pit toilets are available throughout the trail system making for a very pleasant walk in the woods.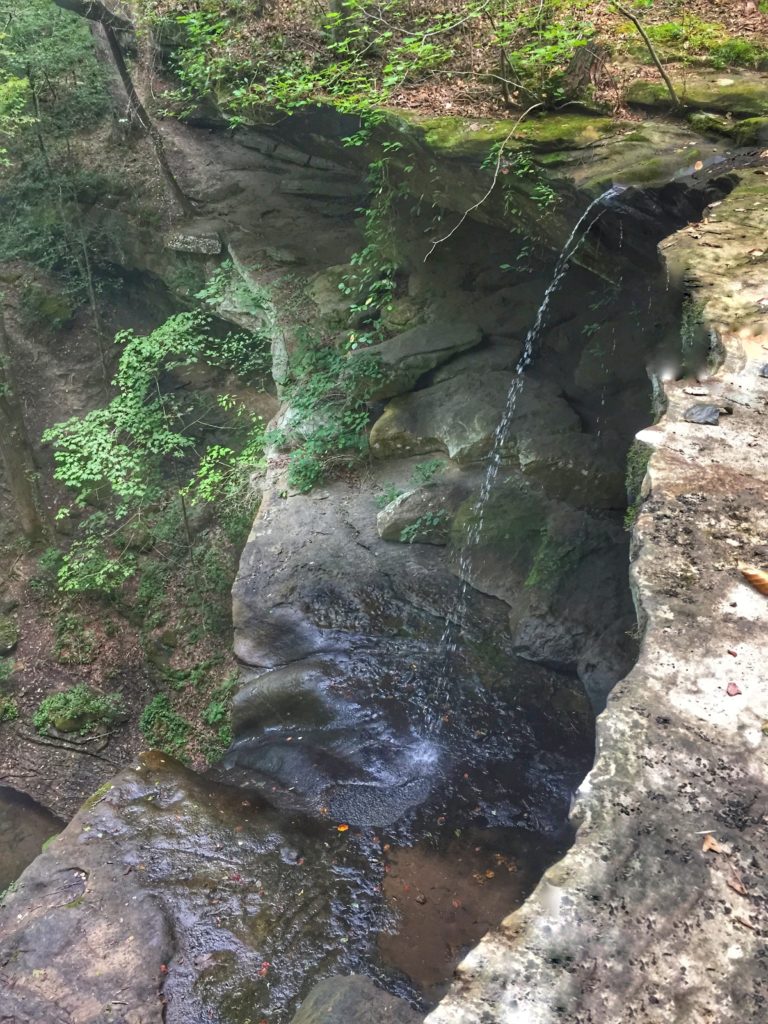 Check out Spring Park after dark, adjacent to Downtown Tuscumbia. There's a light show with fountains in the evenings. The show is set to music and begins at 8pm and again at 9pm. A waterfall and lighted swan can be viewed as well.
There are tons of other outdoor options in the area. Boating, fishing, ATV riding, kayaking, and hiking abound. The Joe Wheeler State Park is in the area as well.
Just Go Already!
We had a blast on a long weekend in the Muscle Shoals area. There was much to see and do, and let's be honest, eat, that we couldn't fit it all in. But don't just take my word for it, check it out for yourself! Plan a visit soon. You won't be sorry.