I don't know when the seed was planted. My family went to the Grand Canyon when I was a kid. Maybe it was then. It was a road-trip; California to Michigan. There may have been others with us, I can't be sure. It was so long ago.
We didn't stay there, only passed through, but I remember my dad yelling at me to stay away from the edge; he was deathly afraid of heights. I also remember the colors of the canyon. The reds and browns, purples and yellows,  streaked and smeared across the canyon walls and the sky. There was a group of buildings that looked like log cabins directly across what I now know to be the Rim Trail.
I wanted to stay there, in those buildings, next to that canyon. But we didn't. We left after we'd walked to a vantage point to take in the view. I don't recall when that trip was, or where else we might have gone. I hadn't thought about it in years. When I did try to think back it's like a dream. I wonder now if that was when the seed was planted.
Maybe it was later on when I learned about the Phantom Ranch. I read about it somewhere. Probably in the AAA guide. I used to pour over those books. Road trip itineraries, national parks, theme parks, and roadside attractions, all of those things were contained between the covers. I spent hours turning those pages, filled with wonder and dreaming of escape.
I'm sure it was in one of these well-worn guidebooks that I read about the mythical, to me anyhow, Phantom Ranch located at the bottom of the Grand Canyon, reachable only by mule. The idea of riding a mule to the bottom of that vast canyon and spending the night was magical. It never occurred to me that someone might actually arrive at that place powered only by their own two feet. The seed may have been planted then; at the very least it got some fertilizer and a little water sprinkled on it.
Regardless of when it was planted, it broke through the surface and sprouted on another road-trip some thirty-five plus years later in May of 2015.  This time around I'm the parent of two grown kids asking them not to get too close to the edge.
Our Grand Canyon adventure was a stop on a much longer road trip, just as it was on that trip from my youth. We were headed to Los Angeles to drop off my son, Zach, for a three month internship. Starting at the Visitor's Center we headed out to Mather's Point for what would be our first view of the canyon. We stepped out onto the point and it was magnificent. Awesome! The word  awesome has been so overused in popular culture that it's almost meaningless. It's defined as causing a feeling of fear and wonder, or inspiring an overwhelming feeling of reverence, admiration, or fear. When I use the word awesome here, I mean awesome in the strictest definition. Reverence, wonder, admiration,and fear.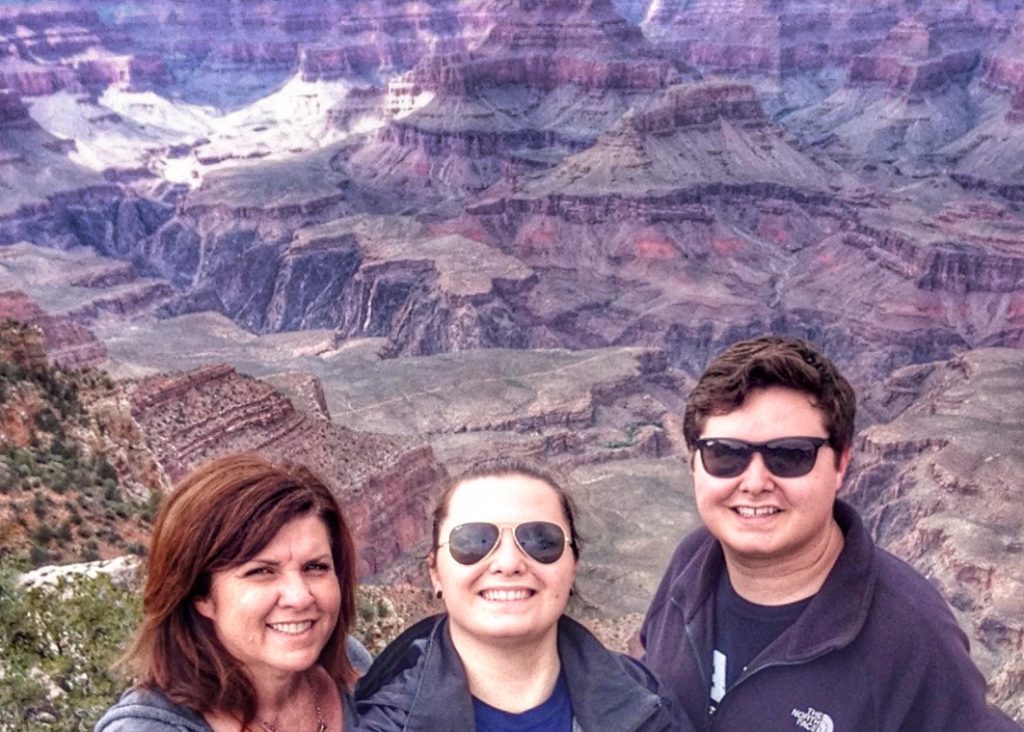 Walking along the Rim Trail and through the Grand Canyon Village, we pass those log cabins from my childhood, eventually finding  the Bright Angel Trail trailhead. Peering over the edge reveals a seemingly endless number of switchbacks. There's a tunnel through the rocks a couple of switchbacks down with a couple taking wedding photos. Tourists in flip flops and sandals line the most upper parts of the trail with an occasional dusty, sweaty, hiker using trekking poles and carrying a backpack thrown in the mix. Heads down, with a look of fierce determination, they make their final push to the top.
We join the masses on the first couple of switchbacks, turning around after three or four switchbacks, and trudging back up a whopping quarter of a mile or so at best. It's getting late and we need to head out. Hopping on one of the shuttles that run continuously through the park, we'll be heading back to the car. An older couple boards after we take our seat. Older than me anyway. I think. The fact that I may be delusional about how old I look has not escaped my notice.
Taking the seat in front of us, they sit, slumped against each other. Filthy, frizzy-haired, and slightly overweight, each has a set of trekking poles. He carries a backpack that is dropped unceremoniously in the aisle. They look exhausted, but happy, content. I can't stop staring, something about them is so compelling. Asking if they hiked up from the canyon floor, they smile and he says yes.
I find this mildly troubling. I consider myself to be in reasonably good shape, but had gotten a little winded coming up the three or four switchbacks of our "hike". He tells me that they went rim to rim. I have no idea what that means, but it seems relatively self-explanatory. They sell a t-shirt in the gift shop that says it. It must be a thing. Fascinated, I want to hear more.
The hike was something they had dreamed of for a long time. They had spent the night at the Bright Angel Campground, close to the Phantom Ranch.  Twelve hours to come down from the north rim, and fourteen hours to come up the south. They left her backpack at Indian Gardens, a campground which is about halfway up the Bright Angel Trail. She couldn't carry it any longer, so they loaded any necessities from her pack into his. They disembark at the next stop, walking slowly towards their hotel, but still leaning in to one another. Incredible. I can't stop thinking of them or of the possibility of that hike.
The rest of the road trip goes by pretty quickly and we spend a couple of days in LA getting Zach settled in and seeing the sights. Amanda and I board our flight home to Alabama and life goes on. But that seed that sprouted? It's growing. Slowly and surreptitiously.
Months later, while out with friends, I mention the Grand Canyon and how I might like to hike it one day. This is the first time that I've actually said this out loud. It sounds both enticing and absurd to me as the words leave my lips. Immediately Carver pipes up exclaiming that she's in.  A quick Google search lets us know that reservations for Phantom Ranch are typically secured over a year in advance . This gives us plenty of time to train and prepare. The deal is sealed over a glass of Cabernet Sauvignon. It's settled. We are going rim to rim!
Phantom Ranch only takes reservations the first Monday of the month. I mark my calendar for the first Monday in December, the reservations go quickly. When the morning rolls around I'm seated at my desk, eagerly dialing the number at 10AM my time. A woman picks up on the first ring and the first available date happens to be December 4, 2016. Almost exactly one year away. A little worried about weather in December, I ask her what we might expect. Explaining patiently that there really is no way to tell, she goes over the cancellation policy.  Full refunds are issued up to two days prior to the trip. I book our stay at Phantom Ranch.
Moving on, she inquires about accommodations before and after the hike. I was so focused on Phantom Ranch that I had given this little thought. She gets us into the Bright Angel Lodge the night before our hike as well as the night we hike out. These are the log cabins I'd wanted to stay in as a child. I can barely contain my excitement.
Next she asks what trails we'll be using. I tell her that we''ll be going rim to rim. There's a fairly long pause before she explains that the roads to the North Rim close in October. Sensing my disappointment, and probably my lack of knowledge and experience, she says that most people go down the South Kaibab Trail and come up Bright Angel at that time of year. I immediately tell her that that's our plan, silently vowing to google it as soon as I hang up.
A few more questions and we're all set. She gives me a confirmation number and wishes me luck before hanging up. My phone dings as I receive a confirmation email.
This shit just got real.
Click here to read what happens next.