It's fall; the most wonderful time of the year! Temperatures are dropping, leaves are changing, and due to a wet summer, the waterfalls are roaring in North Alabama. The perfect trifecta for a road trip along the Lookout Mountain Parkway to see fabulous fall foliage and wonderful waterfalls.
Waterfall One
Begin the journey at Noccalula Falls Park in Gadsden, Alabama. Park by the chapel and take a short walk across the bridge to get this popular view of the 90-foot namesake waterfall. So popular it was recently rated number one selfie spot in Alabama.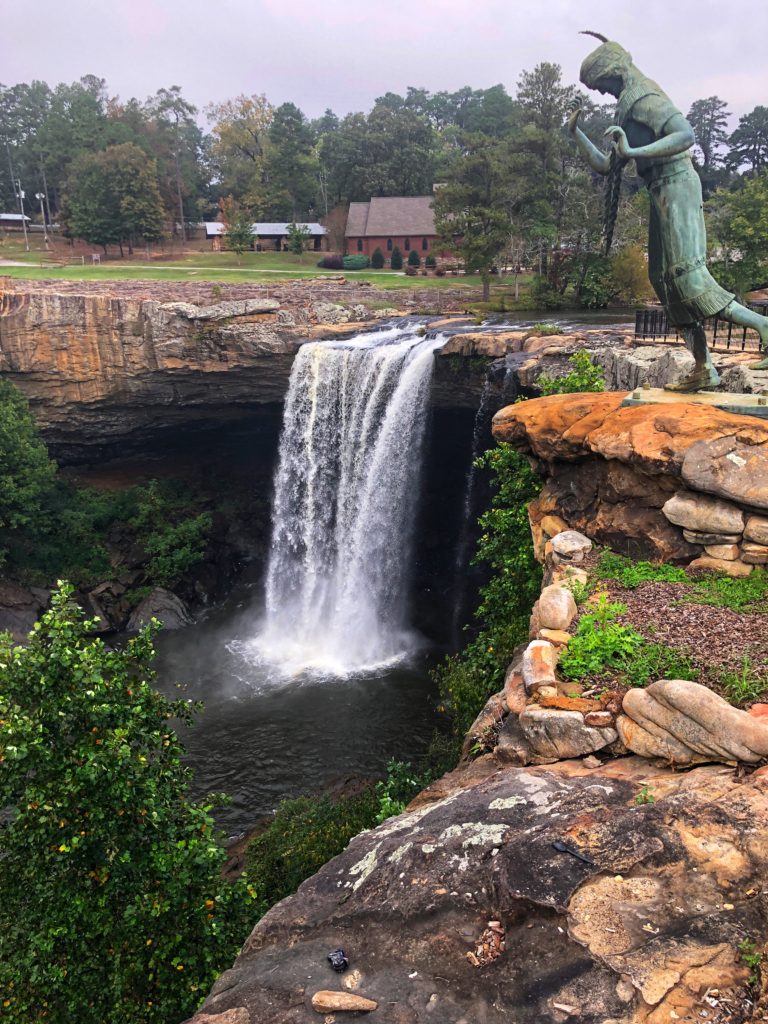 If you have time, visit the park and hike down into the gorge to see the falls from a different perspective. The gorge trail is paved until the final quarter mile or so, making it accessible to most.
Cruising Lookout Mountain Parkway
Pull out of the parking lot and go straight at the traffic light. That puts you on the Lookout Mountain Parkway AKA Tabor Road. Continue north and enjoy the pastoral views. Lookout Mountain Parkway is not very well marked here, basically turning into Highway 11. Head north towards Fort Payne where the parkway signs are more frequent. If you get turned around (like we did) you can always hop on I-59 north to exit 218 and pick the parkway back up there.
Follow signs to DeSoto State Park. As you climb up the mountain enjoy the views hinted at in the name of the Parkway.
Waterfall Two
Measuring over 100 feet tall, DeSoto Falls is an amazing sight involving very little effort. A short walk down a path with handrails will take you to this spectacular view!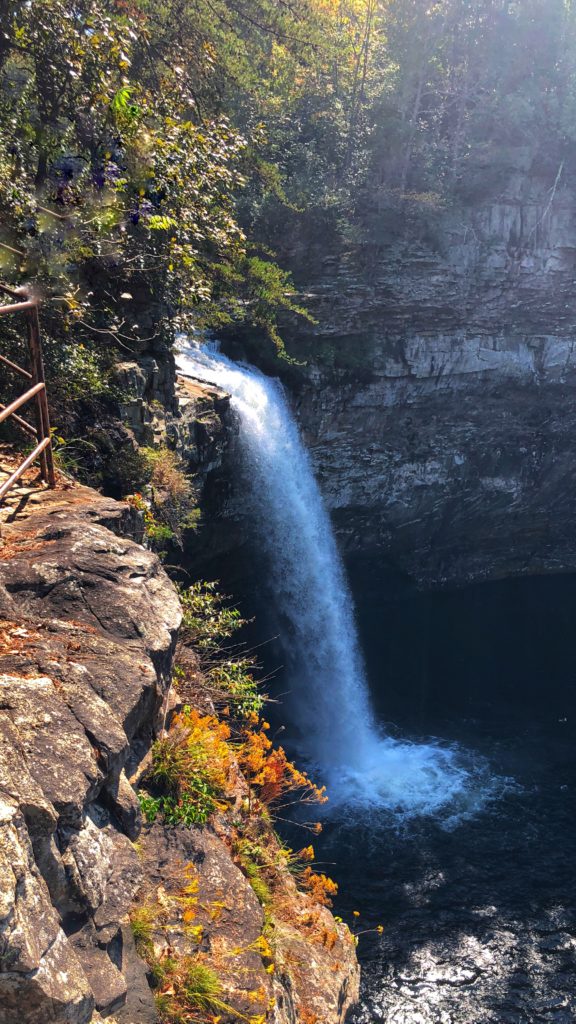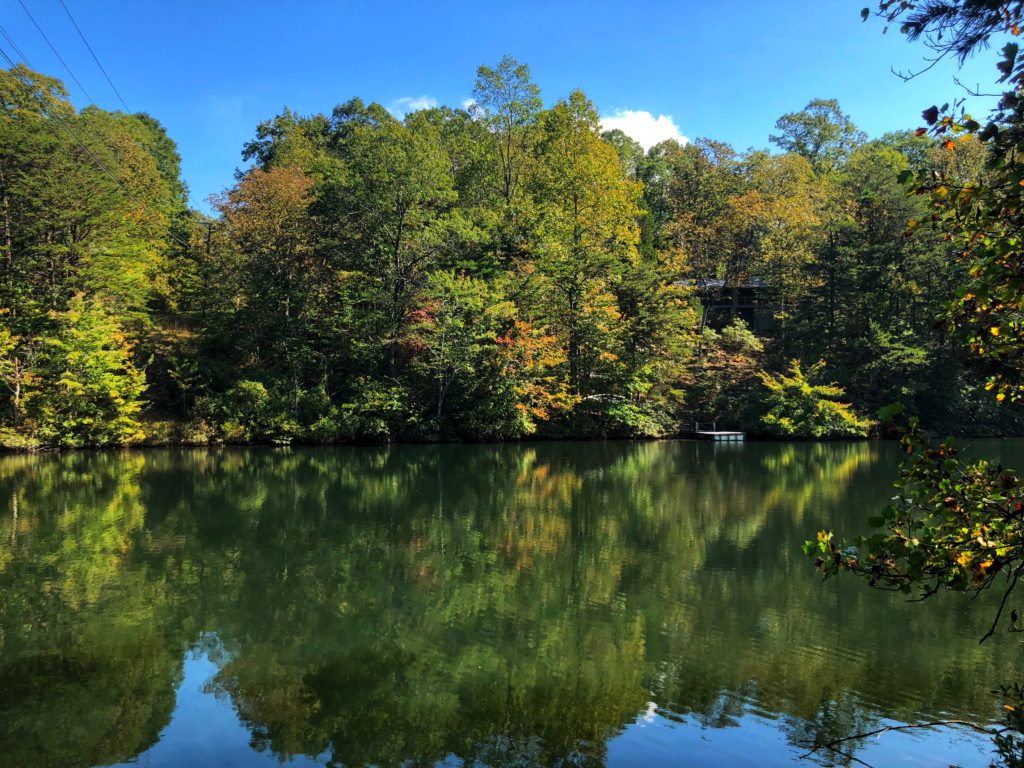 Worked up an appetite? You can't go wrong with a stop in Mentone. A short drive from DeSoto Falls, Mentone has several restaurants, great shopping, art galleries, and more.  Wildflower Cafe is a popular spot, but today we decided on Green Leaf Grill. Amazing Fried Green Tomato BLT on the front porch of this cute eatery nestled on a hillside. Delish!
Waterfall Three and Four
Continue on the Parkway (Highway 11)  and follow the signs to Cloudland Canyon State Park. Remember those easy jaunts to the waterfalls? That part is over! You'll have to work a little harder to see these two, but I promise, it's well worth it.
Hop on the Waterfall Trail and hike down the 600 stairs (yes, you read that right) to Hemlock Falls, passing the turnoff to Cherokee Falls. Save that one for the trip back up, you'll enjoy the break on the climb out.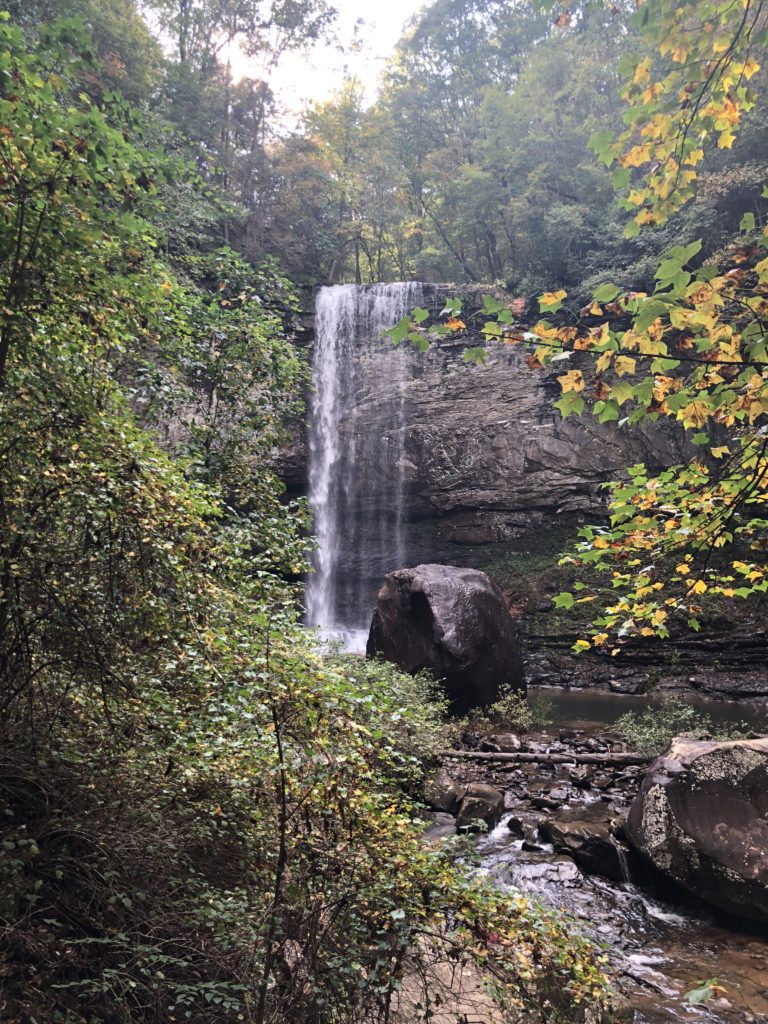 Marvel at the beauty while catching your breath, then head back up the trail towards Cherokee Falls.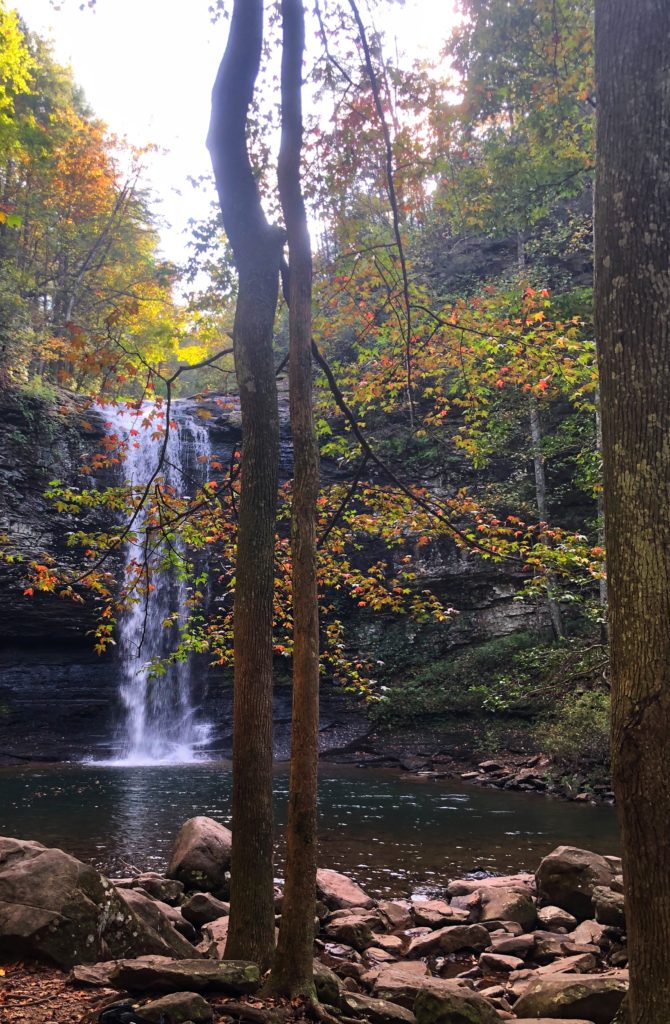 Bonus Waterfall
That's four incredible waterfalls and tons of fabulous fall foliage packed into 60ish miles! Pretty great, right? If you're looking for more, you can easily add in a trip to Little River Canyon, home to Little River Falls, as well as an 11-mile scenic drive that will take you by several breathtaking overlooks and seasonal waterfalls.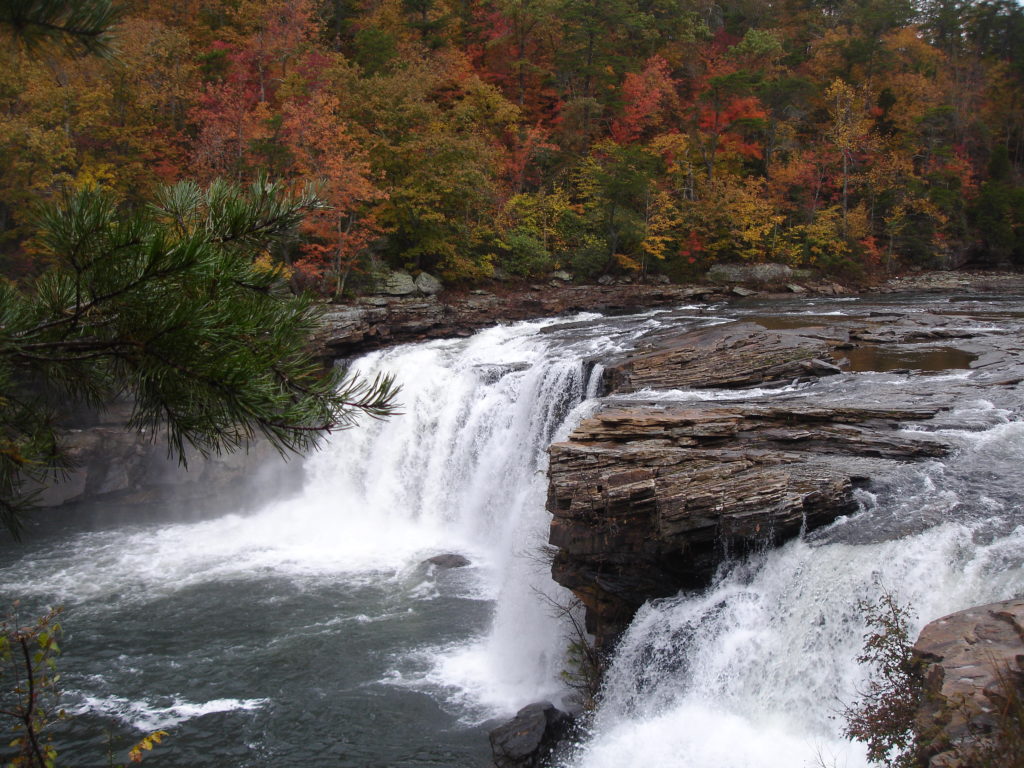 This road trip gives you lots of bang for your buck. It can easily be done in a day including stops to explore, hike, eat, and shop. So what are you waiting for? Let's hit the road!
Read about five fabulous fall foliage hikes in North Alabama by clicking here.
SaveSave
SaveSave
SaveSave
SaveSave
SaveSave
SaveSave
SaveSave
SaveSave
SaveSave
SaveSaveSaveSave
SaveSave
SaveSave
SaveSave