What in the world is a monadnock? And how in the heck do you say it? Simply put,  a monadnock is a protrusion not in a mountain range. A big rock. Rhyme it with gonad and add knack. You know, like the ubiquitous 80's band with the hit that, in retrospect, may have been about a pedophile.
It turns out there are three monadnocks in the Atlanta area. The most obvious, Stone Mountain. The other two are Arabia and Panola. Every March there's a Triple Hike Challenge, and this year I'm up to the task.
The Reluctant Traveler (my husband if you're new) and I awaken to freezing temps and torrential rain. Odd, since it was 74 and sunny the previous day. Our hike doesn't begin until 1 PM, plenty of time for the rain to end. We eat breakfast and load up the pack with snacks before heading off to the first meeting point.
Stone Mountain, the first trek of three. The rain has stopped, but it's cold, and the wind is howling.
We meet up with our leaders and head up the trail. By trail, I mean the side of the rock. Did I mention that it has been raining? Rock plus rain equals terrible news for me, the woman who can trip over a blade of grass.
We make several stops along the way, enjoying stories, and history of the park. We even check out some graffiti circa 1913. Back then, graffiti required patience, a considerable time commitment, and a chisel.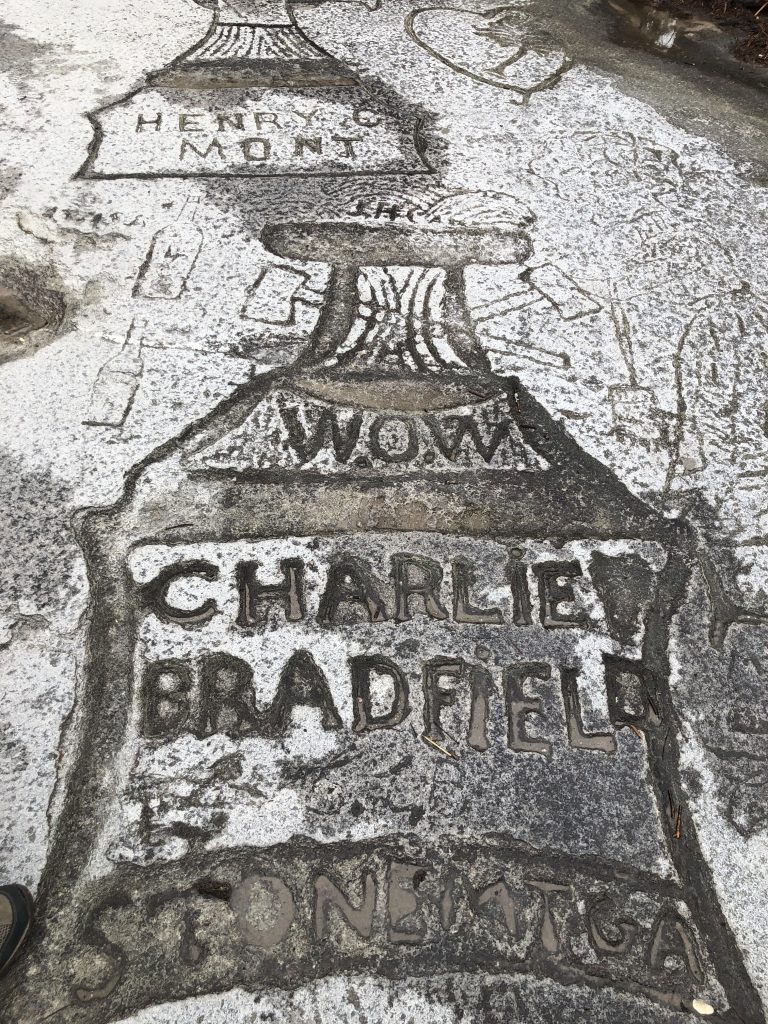 At the halfway point, halfway in elevation gain, not distance, our guide explains that the next part will be extremely steep and slippery. There are rails for the first portion; then you're on your own.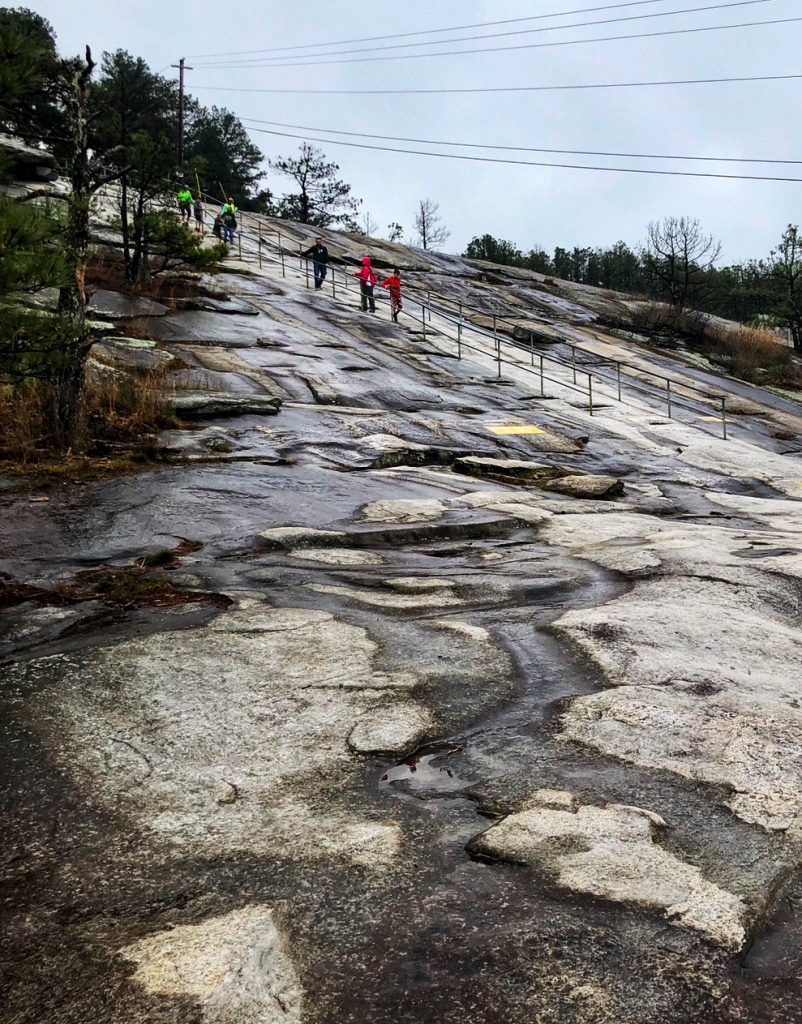 RT sets off at his usual breakneck speed, in an effort to win. Of course, there's no competition, but it's his birthday weekend, so I just let him go. Slow and steady does it for me. When I crest the top, I am nearly blown over by the gale-force winds. The views are stunning, despite some cloudiness, and we hang out for a while before making our way back down to the parking lot.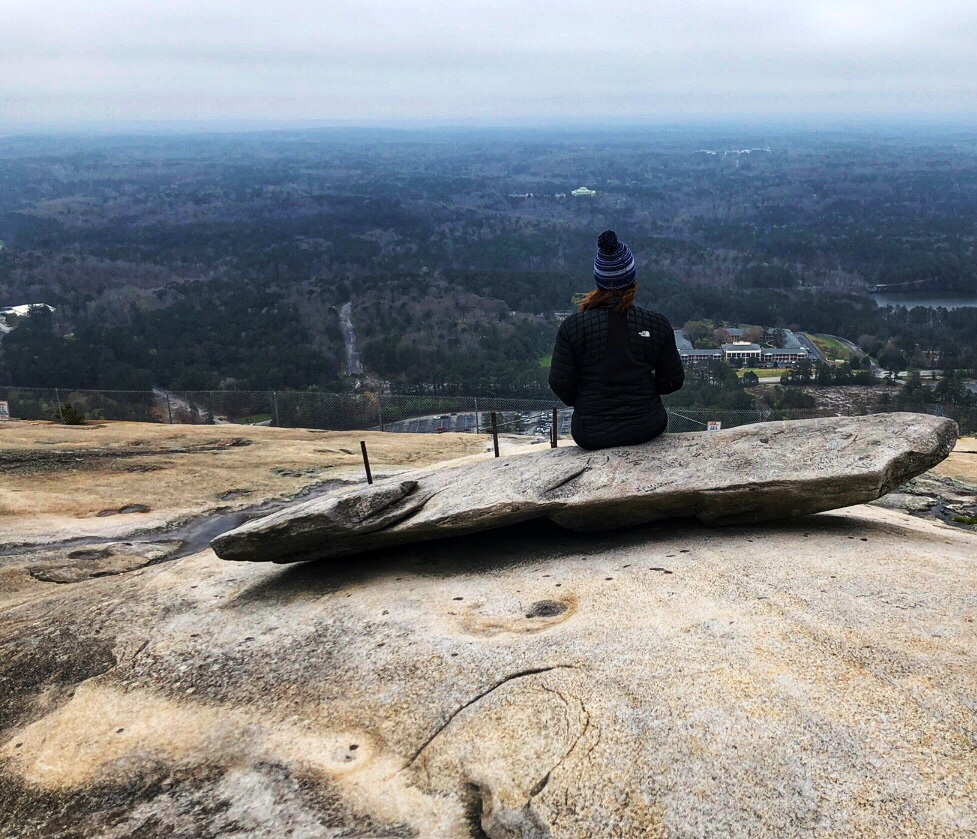 Up was challenging but down will prove much more difficult. Slippery-wise, and knee-wise. I make it down the first part with no incident, but slip and fall on my ass while holding onto the rails on the second part. Did I mention it was a big rock? Yeah…ouch.
Arriving at the parking lot, we load up and begin the drive to Arabia Mountain. Trek two of three in the Monadnock Madness Triple Hike Challenge.
Upon arrival,  Ranger Robby welcomes us offering a wide array of snacks. I load up on oranges and Snicker bars; we are hiking, after all. Ranger Robby gives us a brief introduction to Arabia Mountain and then we're off.
We hike to some ruins,  ghosts of the quarry operations from long ago, before heading over and up the Monadnock, Arabia Mountain.  Trekking up the moon-like surface, there are stunning pools of tiny flowers in bloom. Ranger Robby's love for plants is evident as he talks with us about the Diamorpha.
Diamorpha have adapted to their hostile environment and now thrive on the rock; they even have a reverse growing season. Stunning red, and sometimes white blooms, in pools amidst bright green and yellow moss makes for quite a contrast on the otherworldly rock surface.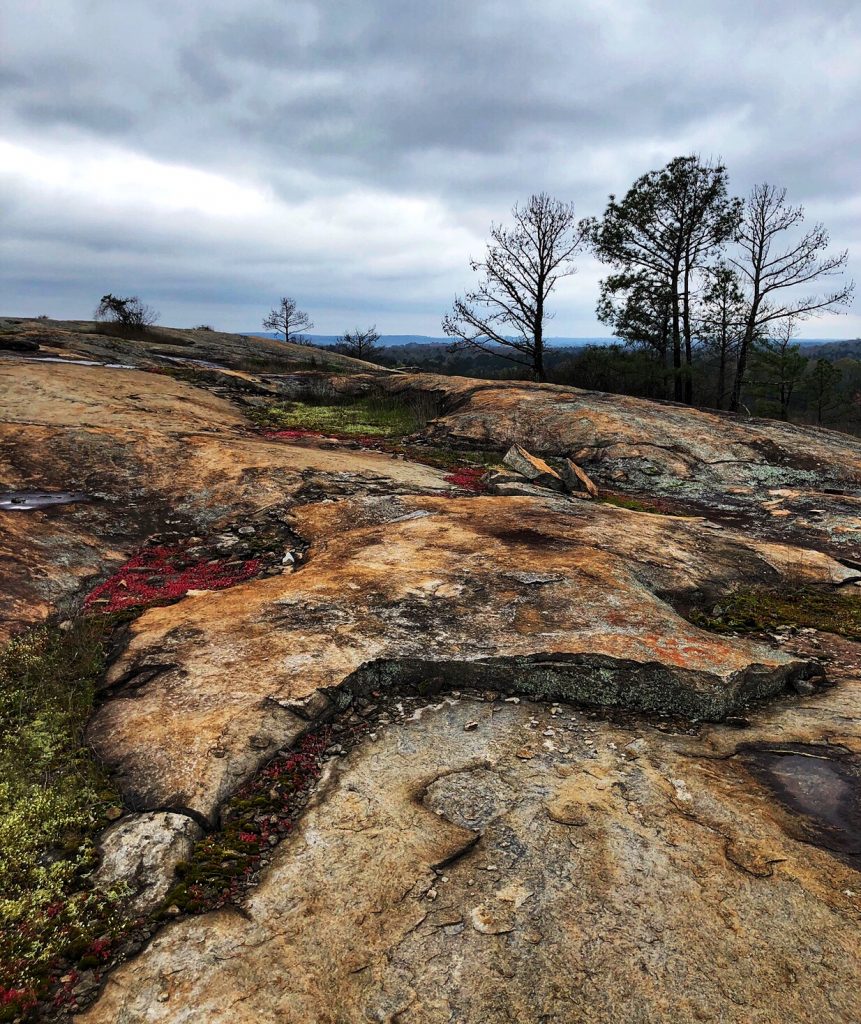 It's getting late, and we head back to the Visitor's Center. The third, and final trek, Panola Mountain, is a short drive away and they're waiting for us to arrive.
While the focus of Stone Mountain is entertainment, and Arabia Mountain's is education, Panola Mountain focuses on preservation. Ranger-led guided hikes are required to access the mountain itself. I soon see why as we head up the Monadnock viewing it as our forefathers might have.  Lush and verdant, with dramatic Diamorpha rolling out the red carpet, cacti, and ferns dotting the landscape, the scenery is breathtaking.
Sallie, our guide, warns us that several guests slipped earlier that day on their way down. Jokingly I remark that if anyone falls, it will probably be me. It's not too bad, and we're almost to the dirt path when I slip and, you guessed it, fall on my ass. Again.
Dusting myself off, we walk towards a blazing campfire where park staff has everything needed to make s'mores! Any day that ends with a s'more is a good day. We partake, say our goodbyes, and head back to the car to make our way home.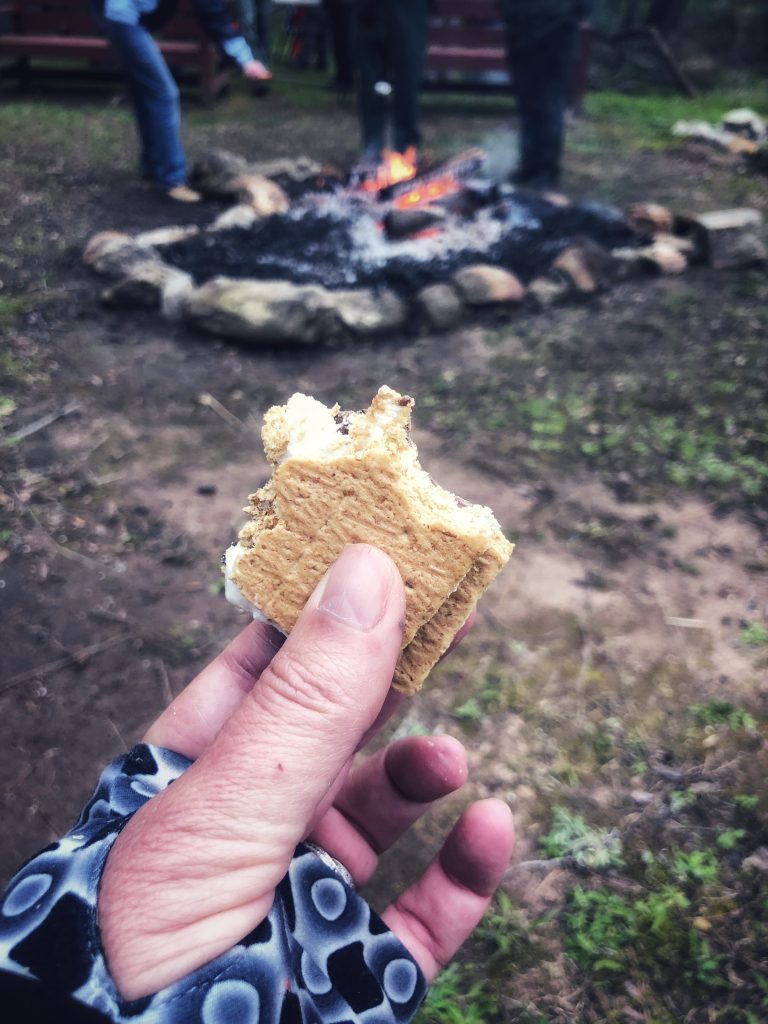 Monadnock Madness – Triple Hike Challenge is great fun and highly recommended.
You can do it all in one day with a group as we did, or you can do three individual hikes on your timeline. Be sure to pick up a passport and get it stamped at all three sites. Upon completion of the passport, you'll receive a souvenir commemorating your hikes from park staff.
For more information about Monadnock Madness – Triple Hike Challenge and other events visit Discover DeKalb.
For park information visit Stone Mountain Park, Arabia Mountain National Heritage Area, or Paola Mountain State Park.