From the statue of Emma Sansom pointing the way up Broad Street to the fabulous neon sign of the Pitman Theatre, there's plenty to see and do in historic downtown Gadsden, Alabama.
Stop by Yoga Aims studio for a calming mat class; all levels are welcome. Are you feeling more adventurous? Take to the silks for aerial yoga!
Ready for some coffee or tea? Head up a couple of blocks to The Coffee Bar for an excellent cup. Be sure to try a homemade bagel or any of the other delicious treats available. Next up, shopping!
Stroll up and down Broad Street, and you'll soon see that there is something for everyone. From fine jewelry to toys and collectibles you'll delight in visiting the many boutique stores and talking to the welcoming merchants.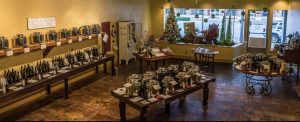 Don't miss King's Olive Oil which offers an incredible array of olive oils and balsamic vinegar. Sample traditional or infused oils with flavors such as red apple, fig, espresso, peach, and honey serrano to name just a few.
Ready for lunch?
Options abound. Grab a New York Style hot dog from Connie's Coneys, or rock out at Rock N Roll Sushi. You'll love the menus on old album covers. Not in the mood for either of those? No worries! There's an Irish Pub, Italian eateries, Thai food, crab and seafood, pizza, even good old burgers and wings. Save room for dessert at Frios Gourmet Pops!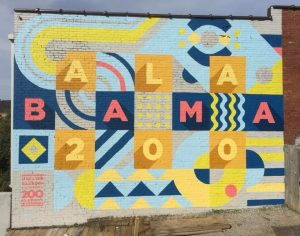 Don't forget to bring your phone so you can take selfies with the gorgeous public art lining the street. Two sculptures flank Regions Bank, and there are multiple murals in the 500 block. It's been said that downtown Gadsden has more culture per square foot than any other small town, downtown in America. The claim has not been disputed.
Speaking of culture, it's time to stop by the Gadsden Museum of Art.
Admission is free, and they're constantly changing the exhibits, so there's always something new to see. There's even a small hands-on children's gallery.
If you've brought the kiddos you may want to cut through the New Orleans styled courtyard separating the Gadsden Museum of Art and the Mary G. Hardin Center for Cultural Arts and visit Imagination Place Children's Museum featuring a pint-sized interactive community and rotating exhibits.
Are you staying for dinner?
BLU Chophouse and Cafe 5 both offer a more upscale menu and fantastic steaks. Of course, you'll still have all of the options from lunch available to you.
If you've still got some energy left, pop on over to Goat Ranch Originals to make a one-of-a-kind souvenir at any of their art classes. Your instructor will guide you stroke by stroke until you've completed your masterpiece. If you're lucky, the baby goats will be there!
Spend a couple of hours, or spend the day. What are you waiting for?  Go downtown. Things will be great!
Thanks for reading! For more information about historic downtown Gadsden visit Downtown Gadsden, Inc.