The World's Longest Yard Sale is always the first weekend of August. It starts on Friday, but you'll find plenty of vendors set up throughout Gadsden, Al. earlier in the week.
Here are eight more reasons to start in Gadsden, Al.
EIGHT:
You can take a selfie at the World's Biggest Selfie Station!
SEVEN:
You can purchase a World's Longest Yard Sale T-shirt at the Greater Gadsden Area Tourism office, or Greater Gadsden Area Tourism Welcome Tent set up at Noccalula Falls Park.
SIX:
There's a 90-foot waterfall at the start of the World's Longest Yard Sale. Seriously, you can walk a couple of hundred yards or less on a paved walkway to view the majestic Noccalula Falls.
FIVE:
In case you've worked up an appetite or haven't had enough shopping, you can attend First Friday in downtown Gadsden. Classic cars, live music, and much more. You'll love it!
FOUR:
Rock out at the FREE Summer Concert Series at the Amp at the historic Mort Glosser Amphitheatre in Downtown Gadsden. Show starts at 8:30 PM, coolers are welcome!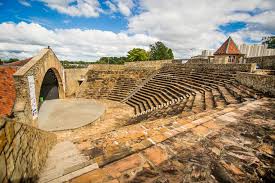 THREE:
The Greater Gadsden area has fantastic shopping, dining, and accommodations. You may want to stay for the whole weekend. Need more info? Download a Visitor's Guide here.
TWO:
You can stop by the Greater Gadsden Tourism Welcome Tent in front of Noccalula Falls Park for area info, maps, giveaways, and a FREE bottle of water to help you stay hydrated!
AND THE NUMBER ONE REASON TO START YOUR  WORLD'S LONGEST YARD SALE ADVENTURE IN GADSDEN, ALABAMA IS:
It's the official starting point. Really! I saw it on the internet.
What are you waiting for?
It's time to slather on the sunscreen, empty the trunk of your car, fill up the gas tank, and get ready to head up to Noccalula Falls Park to experience the World's Longest Yard Sale.
Need some World's Longest Yard Sale intel? Click here.
Let's go!
As always, thanks for reading. If you enjoyed the article, please share. Be sure to sign-up for the email newsletter and follow along on social media.