It's Thursday and I'm headed to Cloudland Canyon State Park
in North Georgia. Solo again, but this time totally by choice. I didn't tell anyone I was going. I also didn't tell anyone that I quit my job on Monday. No one. Except for my husband. Tomorrow some of my best friends will know when I don't show up for what was to be my first lunch in a women's group I had been invited to participate in. But today my secret is safe.
I'm not sure why I want to keep it a secret. I hated the job. I think I could have loved it but wasn't given the opportunity to do the job I'd been hired to do. I stayed longer than I should have, and one of the factors for staying was the invitation to be a part of that group.
Ridiculous, I know, but that invitation made me feel like I had made it. That my efforts to be a part of the community had paid off. When I resigned from my previous position, one that I'd held for five years, I was asked to leave immediately. It felt like I was being erased. Same thing here.  When I found empty envelopes that were fished out of the garbage laid on my desk with post-it notes about the contents of them, I knew it was never going to work.
I told the founders of the organization that I didn't think it was a good fit. They heartily agreed and asked me to finish out the day, place the key in the drawer, and lock the door behind me. No thanks for what you've done, no card, no cake. Erased. Again.
But enough about that. On a positive note, I've arrived at Cloudland Canyon State Park, it's a beautiful day and I have all the time in the world to focus on my hikes.
I pay the $5 fee to enter the park and ask the ranger for a trail map. Cloudland Canyon State Park is one of the largest parks in Georgia located on the western edge of Lookout Mountain. What drew me here was the 1,000 plus foot canyon carved out by Sitton Gulch Creek. This could provide some elevation training, hard to come by in the southeast, for my Grand Canyon goal.
Not feeling confident enough to tackle the Waterfall Trail/Sitton's Gulch Trail offering a steep hike with close to 1,000 feet of elevation gain, I opt for the moderate West Rim Loop Trail described as follows:
Formerly rated as one of the top ten hikes in the U.S. by Backpacker Magazine, the West Rim Loop Trail is a five-mile lollipop style hike providing several overlooks that showcase the park's rugged geology, deep canyons, dense woodland, and views beyond. From the Main Trailhead, hikers drop down to Daniel Creek and cross over it. The trail then proceeds uphill to a rocky promontory. Just after one mile, the loop component of the hike begins. At about mile four, you complete the loop and then head back to the Main Trailhead, retracing your steps of the first mile. The West Rim Loop Trail is marked by yellow blazes and is most easily accessed from the Main Trailhead. Overnight guests can also access it from the Yurt Village, West Rim Campground, Walk-In Campground, and West Rim cottages. The trail is marked by yellow blazes and is rocky and rooty in several locations.
I hit the bathroom, throw on my trusty hand-me-down bookbag pack and make my way down the trail.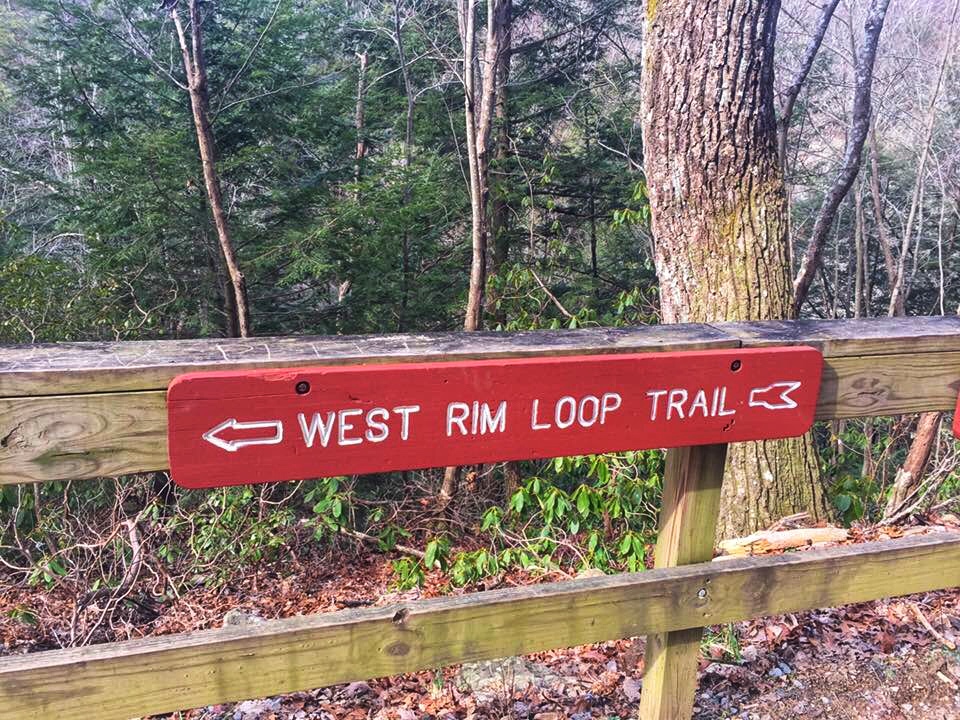 The views are amazing as I make my way across the creek. I can't believe I've waited so long to come here.
Seriously, why have I waited? I've wanted to visit this park for years and just never made the time. I start to think about other things I haven't made the time to do.  We tend to do this…..put ourselves and our needs and wants last. By we, I mean women. I'm sure there are men that do this, but I don't know any. That's to their credit.
What if I start doing the things I want to do when I want to? What if I say no to all the bullshit and start saying yes to myself? Would that make me an asshole? Selfish? Even worse, a selfish asshole? I suspect it may make me happy. I know it would be a start. These hikes are the first steps. Literally and figuratively.
I'm huffing and puffing as I make my way back up to the west rim. It's rocky and steep but the effort feels good. It's hard to think about anything other than putting one foot in front of the other. The trail levels out when I reach the rim and I hike to the first overlook. Incredible. Peaceful and beautiful. Hawks circle in the distance against a brilliant blue sky. Continuing from overlook to overlook it's hard to imagine the view getting more spectacular, but somehow they manage to do just that.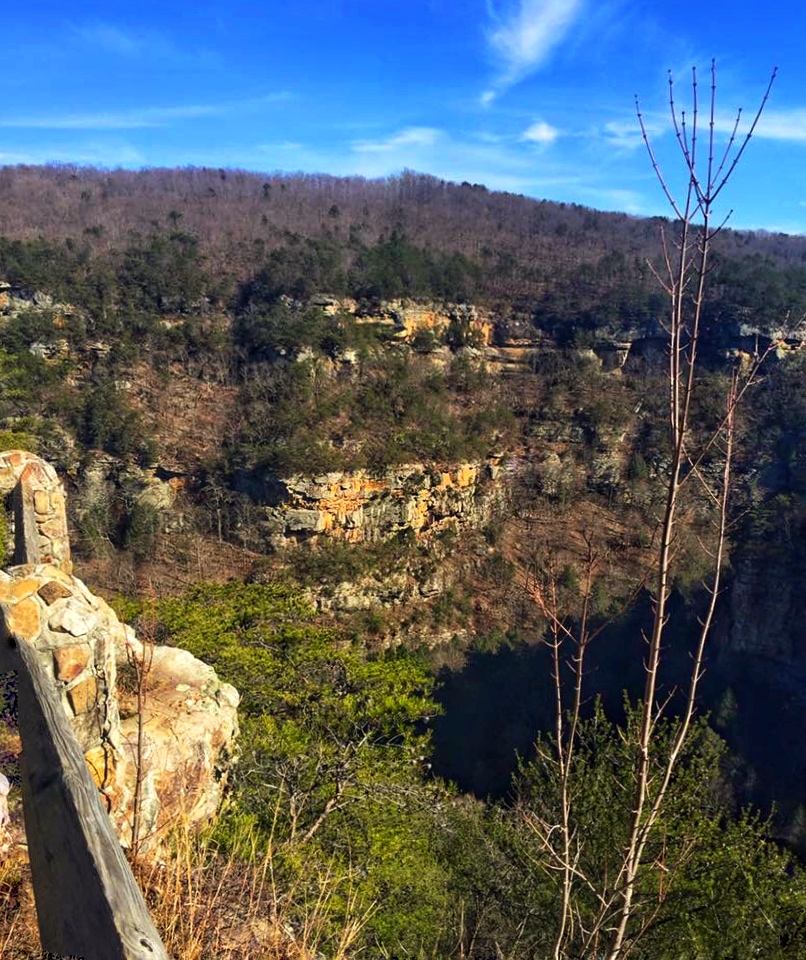 Arriving at a fork in the trail, I wonder which way to go.
Two teenage boys, probably ditching school, come down the trail from the left. I ask them which way I'm supposed to go to remain on the West Rim Loop Trail. They look at me like I've lost a tooth and point to the right. I ask them where the trail to the left goes, they just shrug and walk away rolling their eyes.
If you read the trail description above you'll notice it's described as a lollipop loop. This should be self-explanatory but I guess I'm a little slow. Basically, I'd walked the stick of the lollipop and was in the loop. It wouldn't have made a bit of difference which way I went. Either direction would lead me right back to this spot. I deserved the eye roll. I move on.
Making my way around the loop I arrive back at the junction and begin to retrace my steps back to the trailhead. I've enjoyed being alone with my thoughts today. Hiking in silence, no headphones. I come upon a blaze that someone has written on with a Sharpie:
The Earth Has its Music for those who will Listen
Yeah, it does.
Back in the car, I think about what comes next.
Tomorrow I'll have to start explaining my employment situation. I guess I'll have to figure out what I should do. I've defined myself by my job for much of my adult life. What comes next? Things sure don't look the way I thought they would.
What I do know for sure today is that hike number six is over and out. Next week I'll tackle hike number seven. Five weeks ago my hike would have been the scariest, most uncertain thing coming up in my week. Things sure can turn on a dime. Now next week's hike seems like the only sure thing on the agenda for me. One foot in front of the other.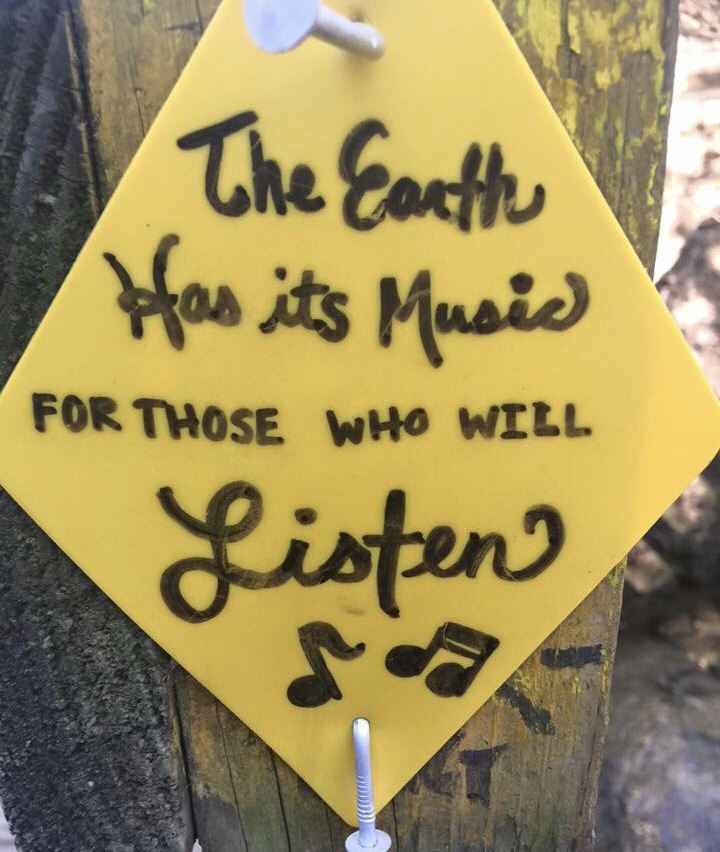 SaveSave
SaveSave