I've tagged along on a business trip to California with my husband. Or the Reluctant Traveler, as I like to call him. RT for this story.
RT was asked to go to the Fresno area to work for a couple of days, and since I have some time on my hands and no office to report to, I'm coming along. We, okay I, decide we should go a few days early to visit the wine country and work in a hike or two.  RT doesn't care for wine and can take or leave a hike, but the promise of a craft beer mecca seals the deal. We arrive in Sacramento three days before we need to be in Fresno and head to Sonoma.
RT has always wanted to see the Redwoods, and I find the Armstrong Woods State Park within an hour or so from Sonoma.  Not the National Park, but it will do. Packing my trusty backpack, we set off through the Russian River Valley, which offers some of the most fantastic scenery I've seen.
We arrive at the park, and the sign says that it's closed.
Closed? We're in the parking lot in front of a trailhead; how do you close a state park? What this means, we discover, is there is no ranger on duty, and the bathrooms are not open.
I look up and see a woman in a California State Parks vehicle driving through the lot and wave her down. I've been looking at the trail map trying to figure out a trek; now I'm ready for a pro recommendation. She suggests the East Ridge Trail to the Pool Lodge Trail as a moderate hike of 4ish miles.
Off we go. Up some switchbacks through a grove of giant pines.
It's a bit foggy, it's still early, and we have the woods to ourselves. I make my way along the winding trail; it's hard to keep my eyes on the path. I can't stop looking up in this surreal forest. This practice leads to several incidents involving tree roots that result in near falls.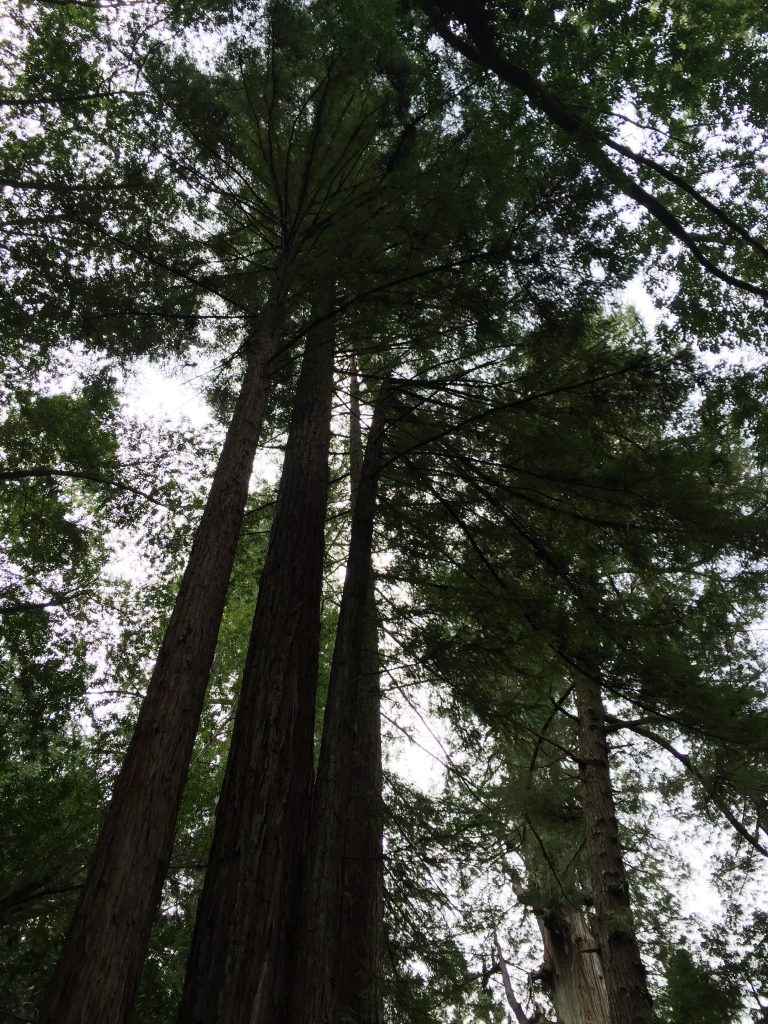 Continuing up, I ponder the definition of a moderate hike. The words are so subjective. Moderate, easy, strenuous. Here's something I know for sure, I wouldn't describe this as moderate. I'm sweating, even though the air is quite cool, and huffing and puffing as we continue to climb.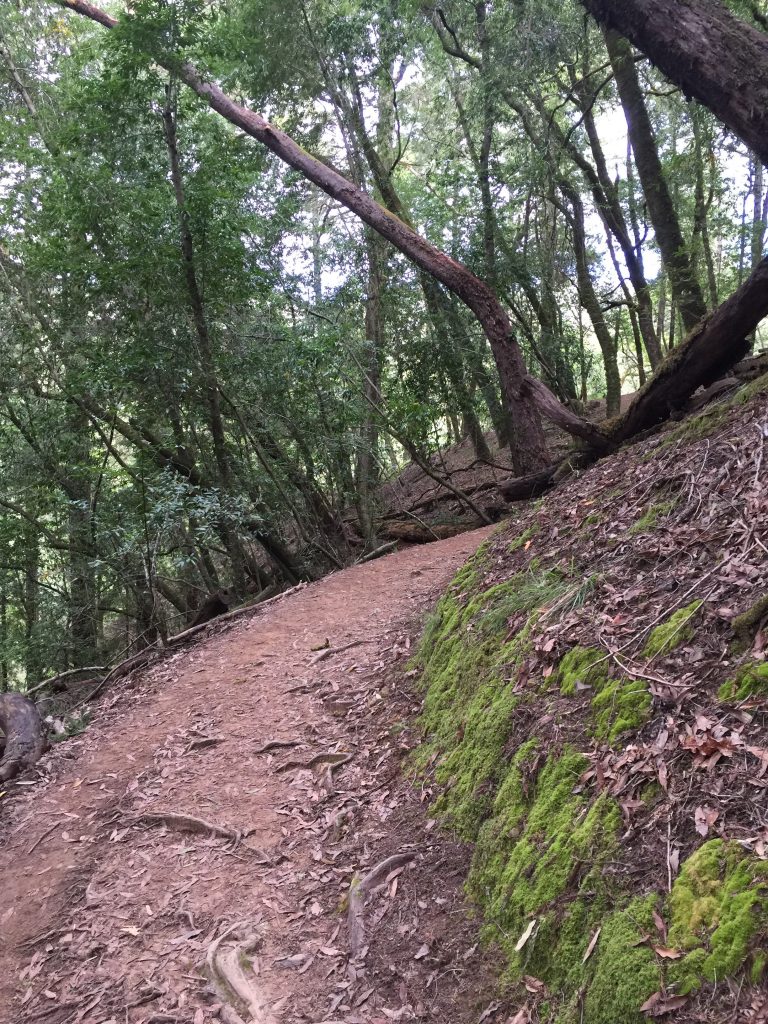 RT is charging ahead as if his life depends on it. He's a pretty competitive guy and looks at the ridge as something to be conquered rather than a journey to be enjoyed. I 'm not gonna lie; this annoys me more than I care to admit. I reluctantly, and truthfully a little resentfully, speed up until we crest the ridge.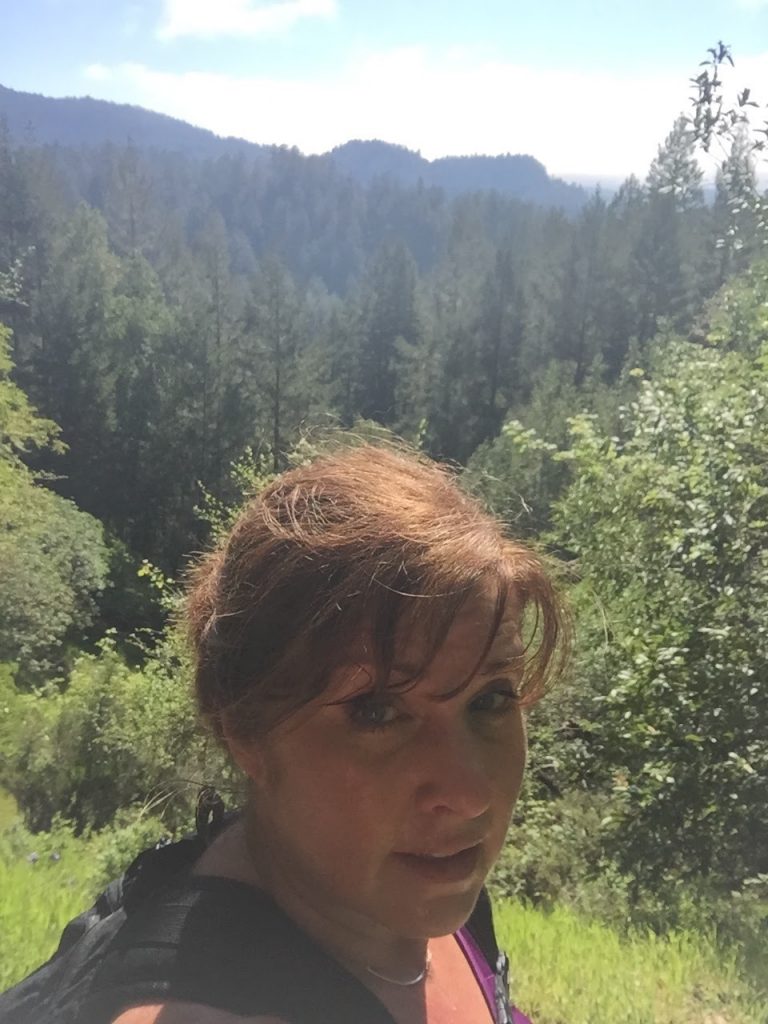 The trees open up to magnificent 360-degree views.
The sun has come out, and we've managed to hike above the morning fog. We shed our jackets and layer down. The climb was worth it! Now it's time to head back down towards the Armstrong Tree.
We cross a fire road to catch the  Pool Ridge Trail. Halfway down RT jumps on a felled tree across a dry creek bed. He runs across and back, then motions for me to go so he can take a picture. Halfway out I freeze. RT asks what's wrong and I tell him I'm stuck. He is looking at me in disbelief. "Just walk back," he says. I can't.
I'm not proud of what happens next. I get down on my hands and knees and do an awkward crawl along the log until I reach the other side. This does not make me feel brave or capable. On the plus side, we did get the photo, and I learned never to do that again.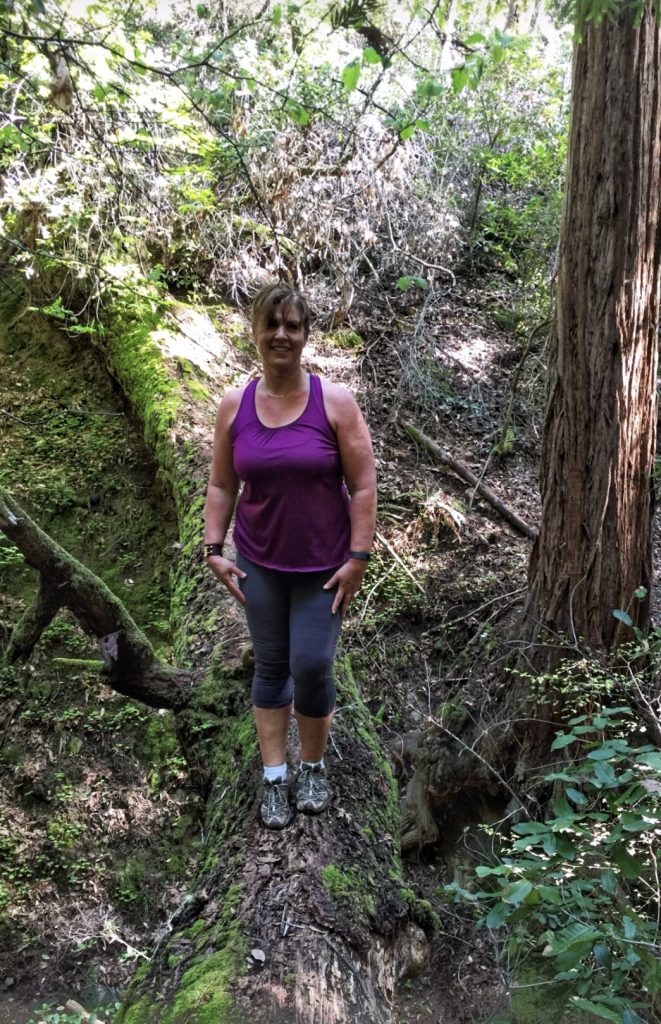 Reaching the forest floor, I realize that the big trees we'd seen were not the most significant Redwoods.
We've entered the Grove, and it's magnificent. It's hard to imagine that this primeval Redwood forest covered much of the area before the logging operations of the 19th century.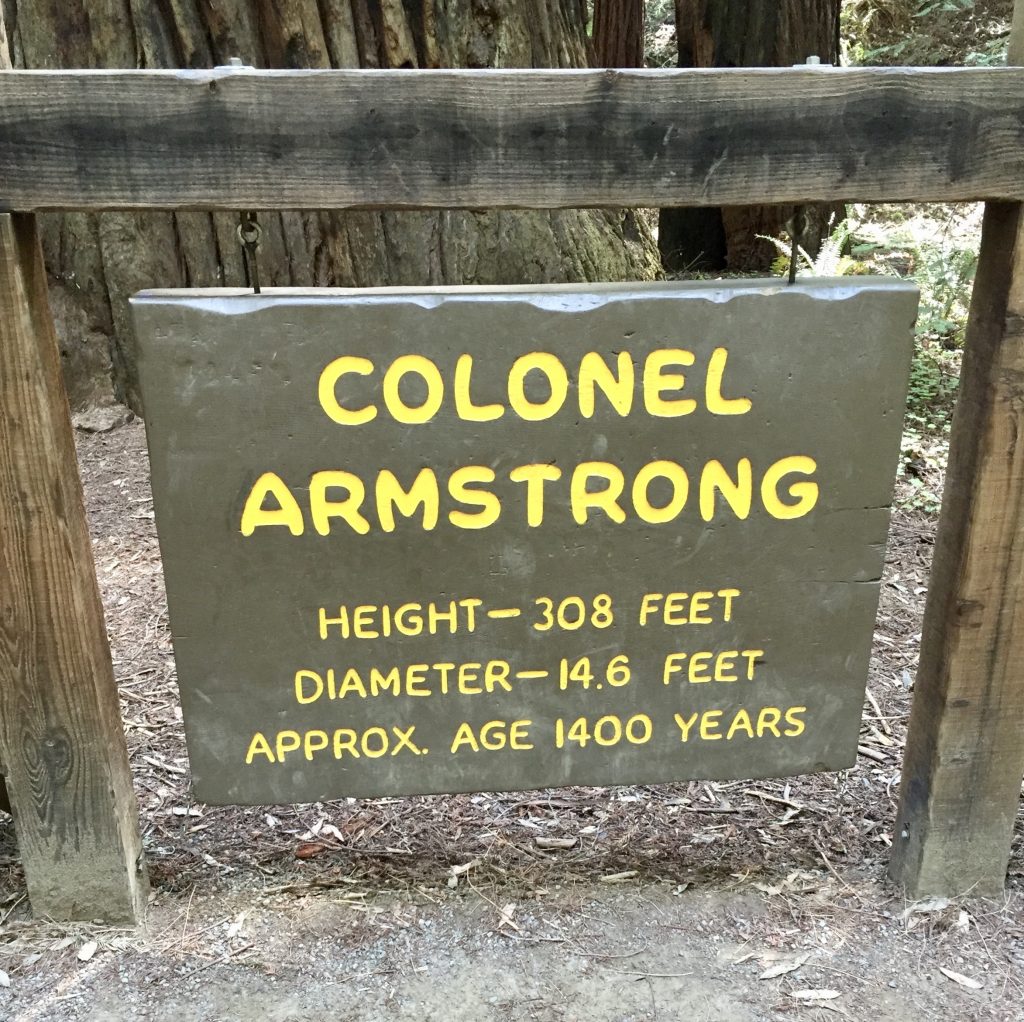 We've also caught up with plenty of other visitors to the park. The pathway through the Grove is flat, easy, and extremely popular. Going by trees such as the Colonel Armstrong, Icicle Tree, and the Parson Jonas Tree while they are partially shrouded in a mystical fog, offers plenty of inspiration. Astounding. RT is grinning from ear to ear, and I think I may have won him over.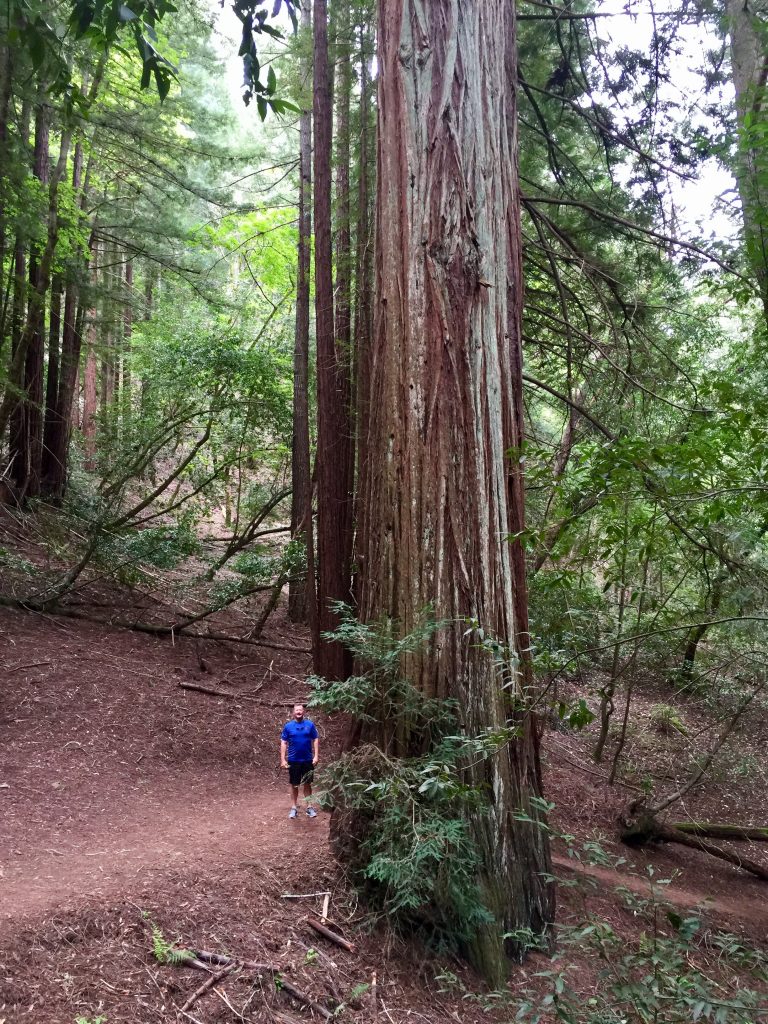 We throw our stuff in the car and head towards the Russian River in search of that craft beer. We don't have to look too hard and end up having an incredible afternoon filled with adventure. But that's another story.
For now, hike fourteen is in the books.
Want to read how it all started? Read about it here.
Want to start with Hike One? Click here.