It's early, and it's cold.
Much colder than anticipated as we head towards Skyline, Alabama to hike the Walls of Jericho, rated the number one day hike in Alabama by Backpacker Magazine.
I'm with my friend Susan and her son. The last time I saw him he was in elementary school, he's a junior in college. Sigh…time flies. Susan called me out of the blue earlier this week. We'd lost touch over the years, and I'd been on her mind. She was going on a hike with Ryan later in the week and was wondering if I'd like to go.
A hike? This week? Hell, yeah I want to go. When she informs me that they're planning on the Walls of Jericho, the deal is sealed. This hike is probably one of the more difficult treks in Alabama with a 1,000 plus foot climb out of a canyon. Perfect training hike for Grand Canyon.
I am glad for the company today since this is probably the most challenging of my hikes so far. Arriving at the trailhead, we're greeted by this warning: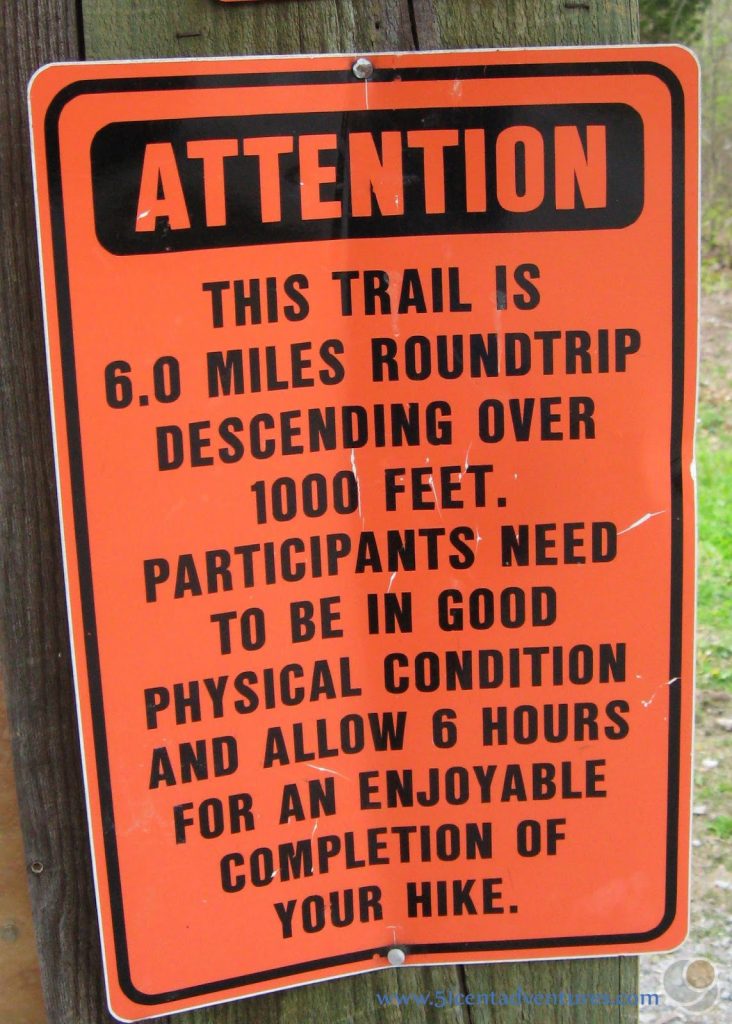 I have a couple of bottles of water in my pack along with one Kind bar. 6 hours? Doesn't seem like much for a six-hour hike.
But just like that Ryan and Susan disappear onto the trail and I follow, ready to begin this adventure. We descend into the canyon along switchbacks framed by car-sized, moss-covered boulders.
Within a few minutes, I'm all warmed up, and we hike on passing small waterfalls, sinkholes, and caves until the trail levels out at Turkey Creek. Fortunately, enterprising hikers have built an excellent log bridge complete with rail to assist.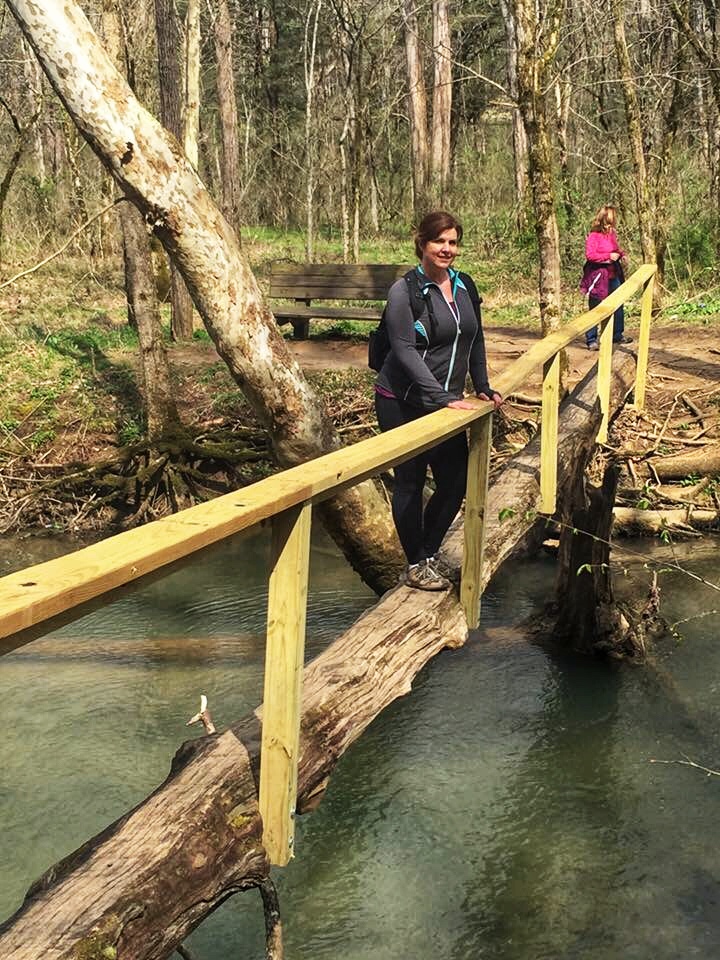 After the crossing, the trail is relatively flat as we follow along the creek. There are a couple of established fire pits with what looks like places to camp. I spot some fencing and see gravestones inside. A small cemetery is on the left; the headstones are alive with brilliant yellow butterflies. They're everywhere.
The canyon walls, the Walls of Jericho,  are starting to close in and rise, as the trail narrows and gets rocky.
Rocky and slippery. With a downward slope. A recipe for disaster for sure, but we pick our way along the trail until we arrive at a strikingly blue-green swimming hole with a waterfall cascading into it. We've come to the end of the trail
Except I know that this is not the end of the trail. This trail ends in a waterfall in a secluded slot that pours into an underground cavern eventually flowing into this swimming hole. The only problem is that we're at the end of the trail. Well, the end of the trail on this side of the water, and there's no bridge.
What there is are rocks and boulders strewn across the water like a giant has been playing jacks. Not sure what to do next, but knowing that we'd come this far, I begin making my way across the creek. Hopping from rock to rock, and being grateful for all six feet of me as I stretch to get across.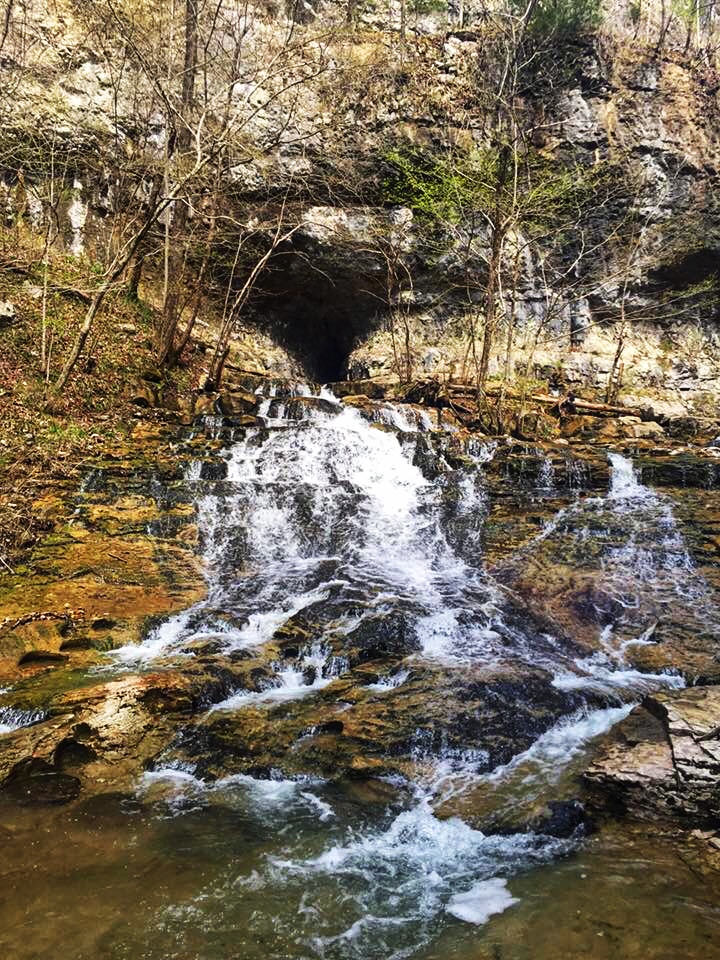 Susan follows shortly getting stuck midway. From the shore, I bark out directions like we're playing Twister. Right hand, left rock, left foot on the log, then lean right, well, you get the idea. She makes it over, and we wait for Ryan, who at age 20 leapfrogs across in a matter of seconds.
Skirting our way around the bend in the canyon, now it's time to scramble a little.
We climb up and over some large rocks, steps if you will, until we arrive at a wall of limestone about 5 feet high. The water is flowing out of the underground caver to our left, but I don't see how we'll ever make it up.
While we're looking for a way, a father and son lean over the top offering assistance. Man, am I glad they were there. Giving me a hand, I'm rewarded with a view of the end the canyon where Turkey Creek is being fed by the thirty-foot waterfall that is a result of the system flowing through the rocks. Turning the other direction, I can peer down to where the waterfall goes underground. Incredible! This is what we came for. This is the end of the trail.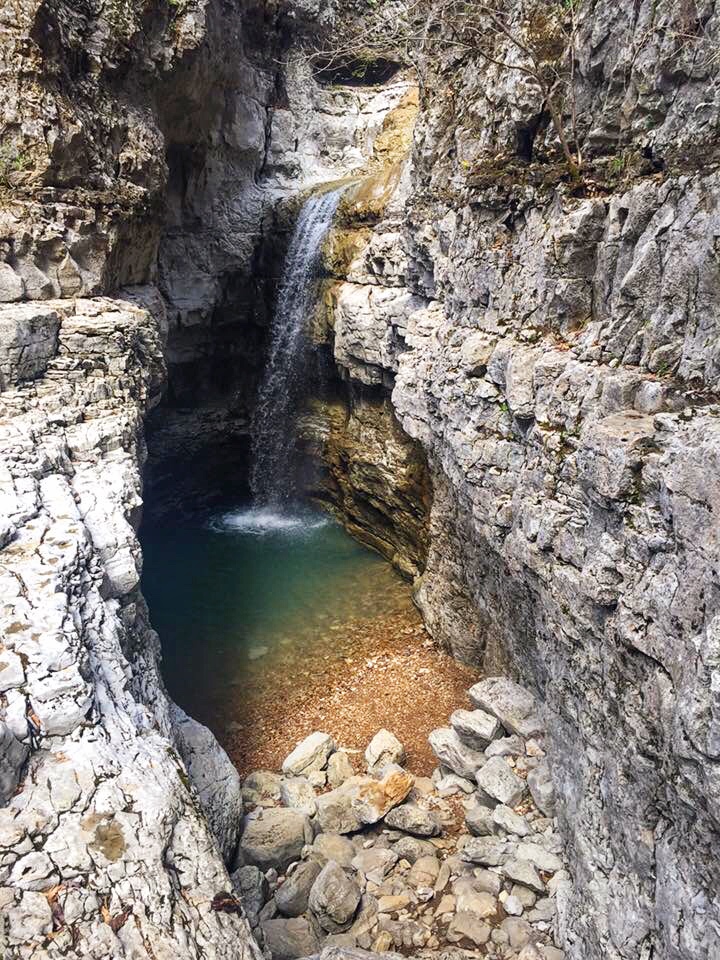 We rest for a while, splitting up the lone Kind Bar three ways and get ready to start back. Knowing what's coming is a blessing and a curse. We cross back over Turkey Creek and start going up. And up. And up.
I look for signs that we're close, but every time I think we're there we turn the corner and there's no end in sight.
Two women in Keds and jeans pass us heading the other direction and ask how far the waterfall is. I explain that it's several miles and fairly strenuous. It's getting close to 2 PM, and it's February. Darkness arrives early.  Looking at each other, they shrug and walk off down the path.
Eventually, I hear a car, and I know we're almost there. A few more turns and just like that we're back to the trailhead. The father and son are there. Exchanging high fives and expressing mutual concern over the two women we load into our respective vehicles and head home.
I did it. I guess I should say we did it. 1,000ish feet of elevation gain.
The Grand Canyon is about 5,000 feet of elevation gain. I would have been one-fifth of the way there. I would have to do that FOUR more times. I push these thoughts to the back of mind. Instead, I make a mental note to bring more food than I think I might need next time.
Lesson learned. Hike 13  to Walls of Jericho is in the books.
Want to read about Hike 1? Click here.
Interested in 52 Weeks, 52 Hikes? Check it out here.
Read how the whole hiking adventure got started here.
SaveSaveSaveSave
SaveSave